Chestnut Glenn & Chestnut Terrace - Saint Peters, MO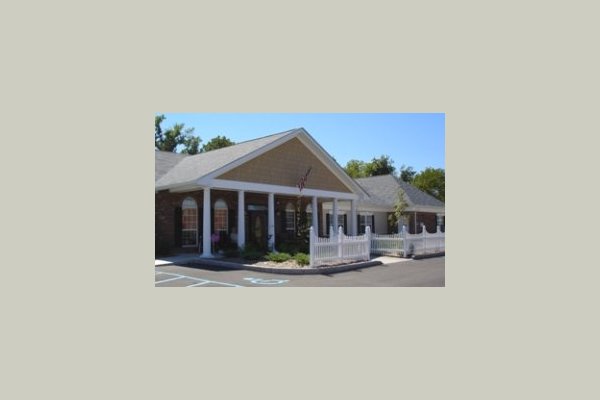 Meals Provided
Hospice Available
Pets Allowed
Respite Available
Aging in Place
Wheelchair Accessible Showers
Minimum Age of Accepted Residents
Female Residents Only
Nurses on Staff
Homecare Onsite
Male Residents Accepted
No Smoking Allowed in Public Areas Indoors
No Smoking Allowed in Private Areas Indoors
Beauty & Barber Services
Outdoor Common Areas
Activities Offsite
Speech Therapy Available
Occupational Therapy Available
Physical Therapy Available
Podiatrist Available
Indoor Common Areas
Devotional Services Available
Activities Onsite
Resident Parking Available
Complimentary Transportation
From the Community
When the demands of living in your home require more than you're willing and able to give on your own, you'll find a welcome home here at Chestnut Glen Assisted Living and Chestnut Terrace.

The Chestnut Glen Campus is located on Klondike Crossing in beautiful St. Peters, MO. We are less than one mile from an acute care medical center and just a few minutes from the St. Louis Airport. St. Peters is nationally recognized as a great place to live and offers affordable, quality living with top-notch amenities and services.

We are a community where Hometown Hospitality is the way of life. We pride ourselves in providing excellent care in an intimate setting by well trained caring staff; that allows our residents to thrive. At Chestnut Glen Assisted Living we have outside walking path, full-time activity programs with a van for community outings. We also have Chestnut Terrace I & II which provide a small home-like environment with high staff to resident ratio. We offer a lovely secure courtyard and a full activity program with a director seven days a week.

Dining is such a focal point of our residents' day. It starts with an open breakfast – with eggs just the way you like them. We accommodate our early risers ready for toast and coffee as well as those who can't start the day without a big hot breakfast. Comfort foods, foods familiar and favorite are part of our menu.

Our admission counseling services are comprehensive. Our administrator helps guide the family through all of the care options available to them as well as through the maze of paperwork involved to access private our public long-term care benefits. Making it easy on the family is priority one.
If you enjoy the hustle and bustle of city life, without the crowded city streets or sidewalks, Saint Peters, Missouri is the place for you. You may not be able to walk to various hot spots throughout the community, but find a thorough listing of available public transportation, and you have your key to the freedom of exploring. From tasty restaurants to abundant shopping to scenic parks, Saint Peters is a community full of life and perfect for active seniors looking for a place to call home.
City Information
Saint Peters, Missouri is a medium sized city located within 30 minutes from Saint Louis. The 2010 census lists Saint Peters' population as 52,575. The ratio of male to female population is just about even, making it a city of opportunity for everyone.
- Walkability score 25: Like any suburban community, there may be some shops, restaurants, or other outlets available within walking distance, but it is likely residents will need some form of transportation to run errands or make scheduled appointments.
- Average age of residents 38: Saint Peters may seem like a young community, with the average age being 38, but that does not mean seniors are not welcome. Saint Peters is a well-rounded community with activities and happenings for all ages.
- Number of senior living facilities in Saint Peters area: 153
- Veteran's facilities in the area: Saint Peters has a large veteran population. There are special ceremonies held every Memorial, Labor, and Veterans Days. Veterans will find several hospitals and medical centers specializing in Veteran's care.
- Weather: If you enjoy living all four seasons, Saint Peters does not disappoint. There are hot summers, warm springs and falls, and warmer than average winters. With the average temperature around 66 degrees, winter sports lovers or just winter lovers, in general, may not find the snow very deep all winter long.
Transportation
Even if you do not own a car, transportation in and around Saint Peters is not that difficult with the right knowledge and contact information.
- Buses: Whether you are looking to get around Saint Peters or get to Saint Louis and surrounding areas, the SCAT Transit System provides five major bus routes that are sure to get you where you want to go.

- Airport: Lambert International Airport is conveniently located in Saint Louis, not far from Saint Peters. Travelers will be able to continue onto their favorite locations while enjoying local and chain restaurants and shops between their flights.
- Other transportation: Mo Rides is a website that will provide a list of transportation services in the Saint Peters area. It may not have specific listings for Uber or Lyft, if this is your preferred mode of transportation. You may want to check your Uber or Lyft app for the closest transportation available.
Hospitals and Safety
Residents of Saint Peters are in an excellent position when it comes to hospitals and healthcare. Saint Peters has some of the busiest hospitals in Saint Charles County. Logic says busy hospitals usually provide the best care. However, if you decide you need a second opinion, Saint Louis is not far away.
- Hospitals: Saint Peters is home to Barnes-Jewish St. Peters Hospital, the second busiest hospital in Saint Charles County. There is also a satellite location for the Alvin J. Siteman Cancer Center.
- Crime rate 1 in 581: The crime rate in Saint Peters is much lower than it is in Saint Louis. However, that does not mean Saint Peters is a totally safe place to live, but it is safer than most big cities. Residents should still be aware of their surroundings and protect themselves.
Sports and Leisure
Sports lovers will enjoy the close proximity to Saint Louis, as the Saint Louis Blues and Saint Louis Cardinals are not far away. Nature lovers will enjoy the scenic parks that surround Saint Peters. Excess travel is not necessary to enjoy the great outdoors when living in Saint Peters.
- Parks and recreation: Spencer Creek Park and Covenant Park are just two of the parks many Saint Peters residents enjoy. Most parks in Saint Peters feature large playgrounds, softball and baseball diamonds, soccer or football fields, volleyball and basketball courts, horseshoe pits, trails, lakes and ponds, and even roller hockey courts. Even if you are not actively playing sports, you can still enjoy picnics inside the many picnic pavilions.
- St. Peters Golf & Recreation Center: There are 145 acres for residents to enjoy a golf course, tennis courts, a 13-acre fishing lake, and a swimming pool.
Entertainment and Attractions
Life is never boring in Saint Peters. Residents can enjoy the typical amenities that most large to medium cities enjoy. Chances are, if you cannot find something you would like to do in Saint Peters, you can travel to nearby Saint Louis to be entertained.
- Movies, shows, and concerts: Music and movie lovers will enjoy the local theaters and movie theaters. Keep up with the latest Broadway musicals and latest Hollywood releases.
- Restaurants and eateries: Living in Saint Peters provide residents with a great opportunity to enjoy local favorites in local restaurants. You can find anything from coffee houses, cafes, sports bars, seafood, steakhouses, burgers and snacks, and even your chain favorites, including McDonalds, Burger King, Starbucks, Dunkin Donuts, and more.
- Casinos: Those who love to gamble will not have to travel far to enjoy the latest in slot machines, keno, table games, and more. Even if you do not gamble, it will be enjoyable to travel, people watch, shop, and experience cuisines you may not have in your senior living facility. The Ameristar Casino is not far from Saint Peters, and some senior living facilities may even provide day trips. Check with your activities coordinator in your senior living facility.
Religious Facilities
While most senior living facilities provide religious services within the community, some may choose to travel to their own places of worship. The Saint Peters community provides access to many religious facilities, including Baptist, Christian, Lutheran, Assemblies of God, Disciples of Christ, and Non-denominational.