About Us
Welcome to SeniorAdvisor.com. Let us introduce ourselves.
Launched in early 2013, we are an early-stage, growth business focused on improving the way people find senior care for themselves and their loved ones through sharing over 150,000 verified consumer reviews and ratings. In just five years, we've become one of the largest consumer ratings and reviews site for senior care and services across the United States and Canada. Check out our media coverage here.
Looking for senior care? We can help you find the best place.
Our site provides easy access to the information families need when making a senior care decision, and features trusted reviews and advice from local residents and their loved ones. We understand how overwhelming the journey to find senior care can be. That's why we promise to provide you with:
Reviews You Can Trust: Every single review that comes through our site is read by our human curation team prior to publication. Nearly 100% of our reviews have been verified by the staff at SeniorAdvisor.com as the first-hand experiences of real customers or visitors.
All-Inclusive Listings: Our database is regularly updated to present a complete directory of senior housing options, home care providers, and senior services across all fifty United States and Canada. Our listings include pricing information, photos, local attractions, reviews, and much more.
Personalization: We understand that everyone has various needs. SeniorAdvisor.com provides you with the opportunity to create your own account based off of your own unique needs. You can quickly save providers to your favorites by clicking the heart icon, allowing you to go back and review them after you've visited or worked with them. For those of you who have already moved in to a community or are currently working with an agency or senior care professional, you can subscribe to review updates for the business, allowing you to stay in the loop.
For more information and guidance about writing reviews, please visit our Help Center.
For the latest news and tips about caregiving, please subscribe to our blog.
Start your search for care today. Check out assisted living in these top cities:
Are you a senior care provider? We can help you reach more customers.
Through our partner program, SeniorAdvisor.com allows business owners to claim their listing for free. Once claimed, business owners are instantly notified each time there is a new review posted on their page. The site allows for dialogue between reviewers and business owners, so businesses can learn what their consumers are saying and respond to their reviews.
We reward businesses for actively engaging with the site by promoting those that have a higher star rating and quantity of reviews, more review responses, and a robust profile listing complete with photos and video. As a business owner, you are in control of your business's visibility on the site, allowing you to enjoy the following benefits:
Higher Conversion Rates: Reading and sharing others' opinions about providers helps reduce the fear or guilt families may have about considering senior care options for their loved ones, therefore resulting in higher conversion rates for our partners. The search for senior care and services can be difficult to navigate, and reading reviews from others who have faced the same decision can help ease the search, save time, and instill confidence that people have chosen the right company for themselves or for a loved one.
Rapid Feedback: In many cases, families will review businesses within hours of visiting. This rapid feedback enables business owners to zero in on areas of success and opportunities for improvement in real-time.
Inclusion in the Conversation: Current and future customers and their families are already talking about your brand online. SeniorAdvisor.com gives you easy-to-use tools to participate in and shape that conversation. This includes the ability to respond to existing reviews and invite new reviews from your families.
For more information and guidance about managing your online profile, please visit our Help Center.
For helpful tips on online reputation management and getting the most out of your online reviews, we invite you to subscribe to our Blog for Business Owners.
On the job hunt? Come join our team!
Based in sunny Austin, Texas, we're a small team with a startup mindset - which means we love to collaborate, work hard, and play hard. In fact, we call ourselves honey badgers. If you're highly motivated and want to work with a close-knit team that loves solving challenges, we'd love to talk to you.
Check out our open job positions here.
Employee Baby Shower in January 2017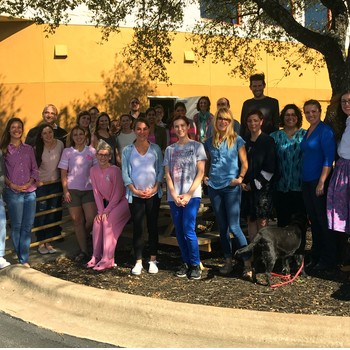 New Year Kickoff Party in January 2016...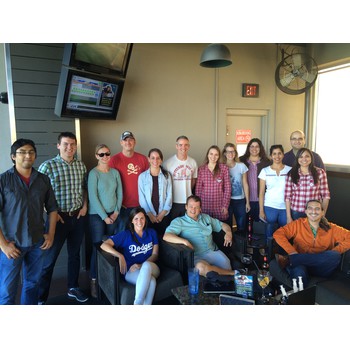 The whole team in December 2015...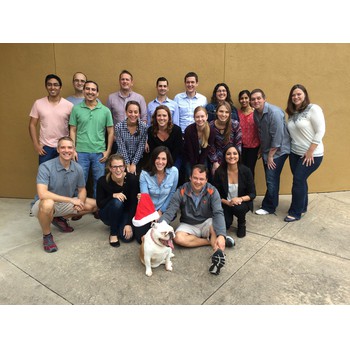 Walking to End Alzheimer's in October 2015...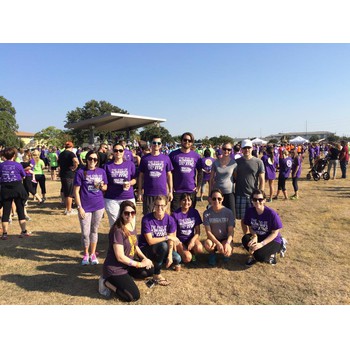 With our beloved dog Tag in December 2014...