Emerald Bay Retirement Community - Hobart, WI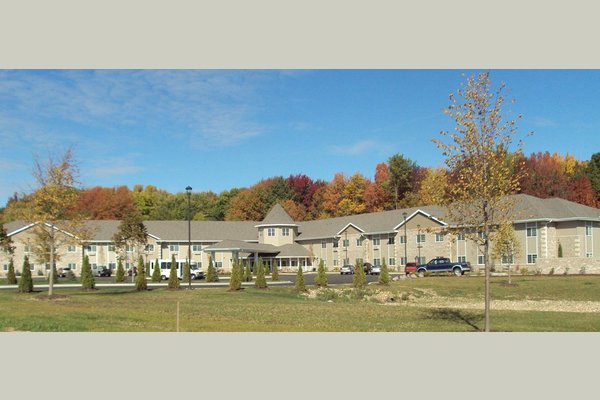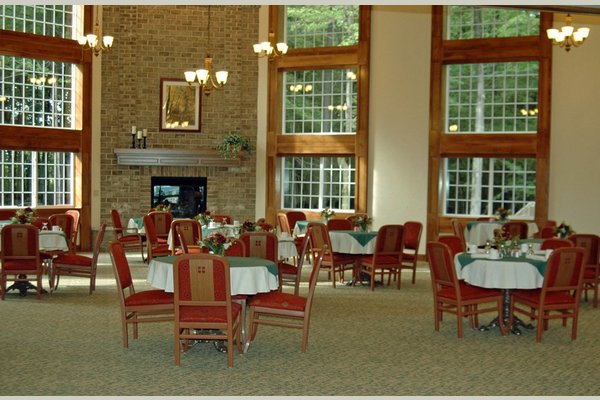 Minimum Age of Accepted Residents
Activities Onsite
Devotional Services Available
Indoor Common Areas
Meals Provided
Aging in Place
Nurses on Staff
Podiatrist Available
Physical Therapy Available
Occupational Therapy Available
Speech Therapy Available
Complimentary Transportation
Activities Offsite
Outdoor Common Areas
Beauty & Barber Services
Pets Allowed
No Smoking Allowed in Private Areas Indoors
No Smoking Allowed in Public Areas Indoors
Wheelchair Accessible Showers
Hospice Available
Respite Available
Resident Parking Available
Male Residents Accepted
Female Residents Only
Doctor on Call
Nurse on Call
Homecare Onsite
Dentist Available
From the Community
Emerald Bay Retirement Community is a picturesque facility in the rolling, wooded hills of Hobart, WI. While it's tempting to stay home and relax by the woods, there's plenty to do in Hobart and the surrounding Green Bay area.
City Information
Hobart, Wisconsin is a small village of 7,610 residents. The village is named for Episcopal Bishop John Henry Hobart who sent missionaries to counsel the Oneida people. It's located outside Green Bay, WI, home of the Green Bay Packers.
- Walkability Score: 6 out of 100. Residents will be dependent on cars or other transportation.
- Transportation: There is no public bus service route in Hobart, but Brown County has a Para-Transit Program sponsored by the Green Bay Metro Transit for seniors. There are also ride-sharing
services like Uber and Lyft available.
- Average Weather: The average temperature in Hobart is 70 degrees Fahrenheit in July and an average reading of 20 degrees in January.
- Average Age in Zip Code 54155: 43 years old
- Number of Senior Housing Facilities: There are three senior living communities in Hobart, WI.
- Senior Center: The Pulaski Center offers nutritious meals and activities for seniors. Members of the Oneida Nation have special senior services available.
- Veteran's Facilities: The Green Bay Vet Center serves veterans and their families.
Shopping and Entertainment
Emerald Bay Retirement Community residents can enjoy dining and entertainment options in the Green Bay area.
- Clothing Stores: Nearby shopping mall Bay Park Square has lots of popular clothing stores, department stores and chain dining options.
- Grocery Stores: For seasonal farm fresh produce, Sunny Hill Farms is nearby. Large supermarket chain Piggly Wiggly and superstore Walmart are also in the area.
- Restaurants: The nearest fast food restaurant is Arby's at 0.5 mile away. For an upscale dinner, try the Safari Steakhouse off the Brown County Golf Course, just 3 miles away.
- Hair Salons: Although Emerald Bay Retirement Community has on-site hair styling services, there are times you may want to venture out. The Paul Mitchell Salon in Green Bay is a higher-end hairstyling option for local residents.
- Movie Theaters: There are two movie theaters nearby. The Marcus Bay Park Cinema shows the latest movies and Get Reel Cinemas shows second screenings.
- Museum: For Native American history, the Oneida Museum is just 4 miles away.
- Bowling: Join a bowling league at The Ashwaubenon Bowling Alley in Green Bay.
- Casino: The Oneida Casino West Mason offers poker, 24-hour slot machines and, dining.
- Libraries: The Brown County Weyers-Hilliard Branch and the Oneida Community Library offers fun activities for the entire community.
- Education: St Norbert College offers community education events, and the Northeast Wisconsin Technical College is nearby as well.
The Great Outdoors
For residents who enjoy keeping active, there are a number of beautiful public parks to visit in the nearby vicinity.
- Parks: The 40-acre Four Seasons Park in Hobart has playgrounds and sporting facilities and is available for picnics. Leashed dogs are welcome on the 1-mile trail bordering the park. The Ted Fritsch Park in Green Bay is a nice neighborhood park with hiking trails and tennis courts.
- Green Bay: Just 14 minutes drive away is the beautiful bay with countless beaches and nature preserves to explore.
- Botanical Gardens: Green Bay Botanical Garden
- Golf: Oneida Golf & Country Club and Thornberry Creek at Oneida are two great golfing options.
- Tennis: The Green Bay Tennis Center is a private membership club.
Health and Safety
Emerald Bay Retirement Community residents have health and safety options available.
- Hospital: HSHS St. Mary's Hospital Medical Center is the nearest hospital and just 7.5 miles away
- Pharmacy: The nearest pharmacy is Walgreens at 6.3 miles away as well as several non-chain pharmacy options.
- Police: The Hobart-Lawrence Police Department is 8.2 miles from the Emerald Bay Retirement Community.
- Fire Station: There are two fire stations in the area, Village of Hobart Fire & Rescue Station 2 is 2.3 miles away.
Religious Institutions
For devout residents, there are many places to worship in Hobart, WI and nearby Green Bay, WI.
Christian Religious Institutions near Emerald Bay Retirement Community:
- Baptist: Highland Baptist Church
- Catholic: St. Joseph-Oneida Parish
- Episcopal: Church of the Holy Apostles
- Lutheran: Zion Lutheran Church
- Methodist: New Life Methodist Church
- Mormon: The Church of Jesus Christ of Latter-Day Saints (De Pere, WI)
- Non-Denominational Christian: New Freedom Church
- Pentecostal: Oneida Apostolic Church
- Presbyterian: First Presbyterian Church
Non-Christian Religious Institutions near Emerald Bay Retirement Community:
- Buddhist Temple: Bounchum Buddhist Temple in Newton, WI
- Hindu Temple: Hindu Temple of Northeast Wisconsin in Kaukana, WI
- Islam Mosque: Islamic Society of Wisconsin
- Jewish Synagogue: Congregation Cnesses Israel
- Quaker Meeting House: Fox Valley Friends Meeting
- Unitarian Universalist Fellowship: Green Bay Unitarian Universalists