The Oaks, A Merrill Gardens Community - Gilbert, AZ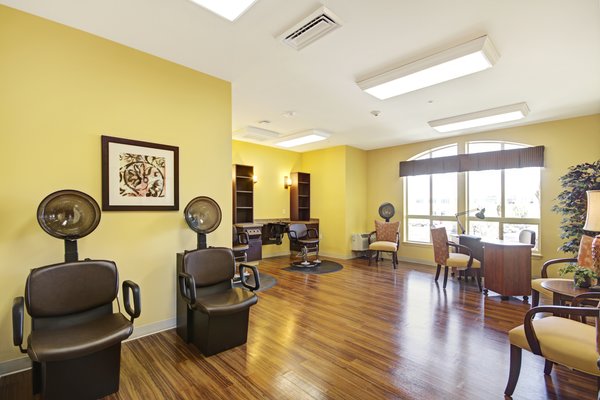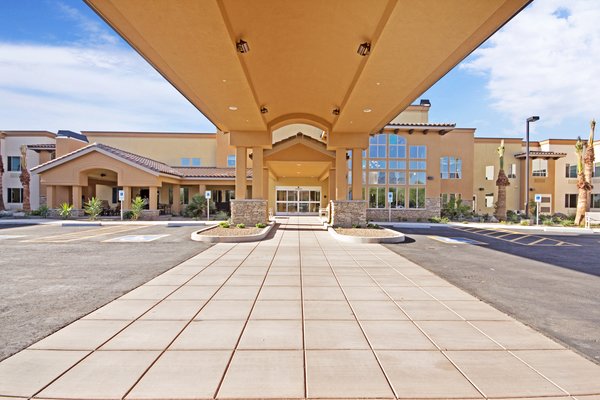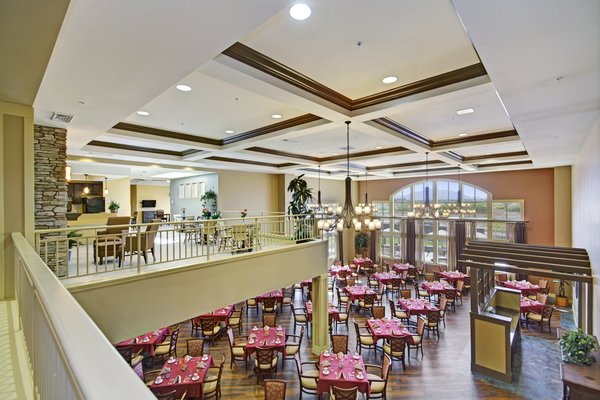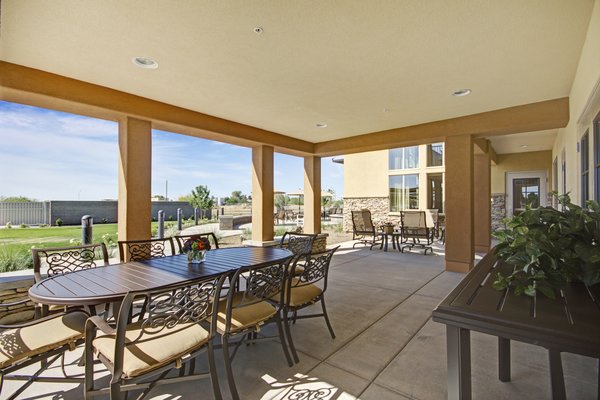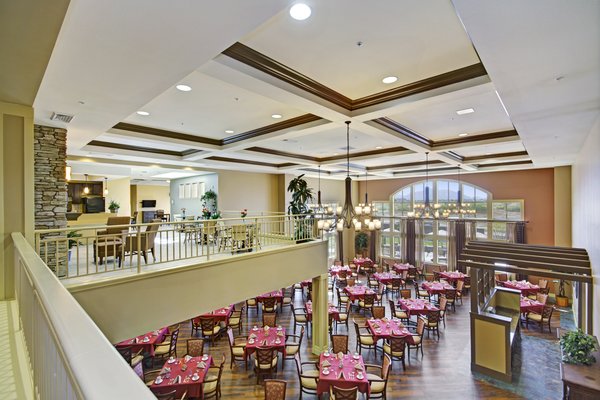 From the Community
The Oaks, A Merrill Gardens Community is located in Gilbert, Arizona, in the "Valley of the Sun". Take advantage of great outdoor space, a lobby café, comfortable living rooms and social meeting areas. The Oaks offers independent living, assisted living and memory care.
Located in Gilbert, Arizona, The Oaks, A Merrill Gardens Community offers memory care, assisted living and independent living. Residents enjoy social meeting areas, comfortable living rooms, a lobby café and great outdoor space. The staff at this residence offers supervision and guidance to residents in a friendly way. They remind residents to attend to daily activities such as toileting and grooming. Caregivers are on service round the clock.
Pet care services are available. Therefore, residents can bring their cat or dog.
The community has everything great outdoors have to offer, from beautiful landscaped grounds to neatly maintained walking paths. The Oaks, A Merrill Gardens Community is close to parks, medical facilities, senior service centers, sightseeing sites, shopping centers, entertainment joints, and more.
The residence has an array of areas for residents to be creative, enjoy a movie, stay in shape, or spend time reading a book. The outdoor patio is an excellent spot for a nighttime entertainment or festive barbecues.
Residents can select from 134 apartments, including memory care apartments, one- and two-bedroom private apartments, and studios. The community features an open contemporary design, plenty of light, and beautiful natural wood accents. They can also look forward to weekly housekeeping, 24-hour staffing, scheduled transportation, and concierge services.
The facility's dining program maintains the schedule of residents with fresh and restaurant style meals. The meals are served from 7am " 7pm, seven days a week.
Staff at this residence are trained and carefully selected to reflect the ideals of a family. Here, care isn't a job description, it's a way of working and living.
Some of the world-class amenities that residents can expect here include:
- Spacious parking
- Balcony/patio
- Courtyard
- Meeting spaces
- Kitchenette/kitchen
- Piano
- Air conditioning
- Living areas
- Movie theater
- Bistro
- Library
By choosing this community, a resident will live a happy and full life that's built around their hobbies and interests.
City info
Walkability score: Gilbert, AZ has an average score of 29, meaning that almost all errands will require the use of a car.
Average age in the zip: The average age of residents living in Gilbert is 33.
Average weather info: Residents enjoy a warm comfortable climate, with July highs reaching into the mid-90s and December lows reaching the low- to mid-50s.
Transportation
Buses: Gilbert, AZ transit services include Paratransit services, express bus and local bus. Residents can use any of these options. The town is a Valley Metro member agency. Valley Metro connects Gilbert, Chandler and Mesa to the light trail. The Express Bus Service starts at the Park-and-Ride lot at Gilbert Road and Page Avenue. Every day, there are seven evening trips and eight morning trips to downtown Phoenix. The East Valley Dial-a-Ride offers a door-to-door and shared-ride public transportation service for those with disability. Senior citizens and individuals with disabilities might request coupon booklets at a nominal co-pay of $2.50 for a single book, which has a value of $10.
Health and Safety
Hospitals in the area: Among the top hospitals in the area include Banner Gateway Medical Center, Gilbert Hospital and Mercy Gilbert Medical Center.
Crime rate in the zip: Gilbert is rated low when it comes to the crime rate. In fact, according the records from the FBI, Gilbert was among the largest towns in the country to record zero murders in 2014, 2007 and 2005.
Sports and leisure
Golf courses nearby: Greenfield Lakes Golf Course, Western Skies Driving Range, Kokopeli Golf Club, Seville Golf & Country Club, Superstition Springs Golf Club, Outback Golf Academy Golf Course, Fat Cats course, and Toka Sticks Golf Club.
Tennis courts/clubs nearby: Val Vista Lakes Tennis Club, ProTenn International, Seville Golf & Country Club, Tennis Courts at Layton Lakes, Chandler Tennis Center, East Valley Tennis LLC, Freestone Park, Ashley Manor Tennis Courts etc.
Gyms nearby " senior friendly (aerobics): Some of the gyms nearby that are senior friendly are Life Time Fitness, Desert Fitness, EOS Fitness gym, Fitness Works, Mountainside Fitness, Knockout Fitness, Snap Fitness, Fitness Works, Orangetheory Fitness, and Freestone Recreation Center.
Shopping and entertainment
Clothes Shopping nearby: Residents can shop for clothing at SanTan Village, JCPenney, Lane Bryant, Macy's, American Eagle Outfitters, Maurices, Soma Intimates and Lane Bryant.
Grocery stores: Plenty of grocery stores are available in Gilbert, AZ. They include Albertsons, Safeway, Sprouts Farmers Market, WinCo Foods, Bashas', Fry's Food and Drug, Smart and Fainal Extra, Walmart Supercenter, Natural Grocery, 99 Cents Only Stores, and Sprouts Farmers Market.
Restaurants: There are roughly 653 coffee shops, bars and restaurants in Gilbert. Some of the world-class restaurants near the facility include Over Easy Restaurants, The Farmhouse Restaurant, Gilbert Black Bear Diner, Simi's Café, Barrio Queen, Joyride Taco House East, Nando's Mexican Café, New Mexican Grill, Flancer's, Joe's Real BBQ, Joe's Farm Grill and High Tide Seafood Bar and Grill.
Movie theaters: Some of the movie theaters that residents can visit to grab a movie are Regal Cinemas Gilbert 14, Harkins Theatres SanTan Village 16, and Fats Cats Gilbert movie theater.
Libraries: Some of the libraries in Gilbert, AZ include Chandler Basha Library, Perry Library, Southeast Regional Library, Chandler Downtown Library, Mesa Express Library, Dobson Ranch Library, Chandler Gilbert Community College Library etc.
Senior friendly salons (men and women): Sport Clips Haircuts, 3rd District Salon, Men's Ultimate Grooming, Rockin's Hair Salon, Supercuts, Regis Salon, Supercuts, Precision Cut and Toni&Guy Hair Salon are some of the senior friendly salons for men and women in Gilbert, AZ.
Attractions: Gilbert, AZ is home to an array of must-visit destinations. Some of them include BounceU of Gilbert, AZ, Riparian Preserve at Water Ranch, Gilbert Historical Museum, Hale Centre Theatre, Freestone Park, Cosmo Dog Park, Dog Park at Crossroads, Flipside Entertainment, Discovery Park, Gilbert Farmers Market, Shenandoah Mill, Fat Cats Gilbert and Southeast Regional Library.
Religious facilities
Religious facilities nearby: Some of the religious facilities nearby include Heritage Christian Academy, Central Christian Church, and Gilbert Arizona Temple.