Top-Rated Retirement Communities 2013-2014
The SeniorAdvisor.com 2013/14 Excellence Awards recognize outstanding senior living communities who have consistently received high ratings from residents and their families in 2013-2014. Winners of the Excellence Award are located all over the country and represent the top tier of independent living, assisted living, and Alzheimer's care communities on SeniorAdvisor.com. This exclusive designation places the winners in the top one percent of senior living communities nationwide according to consumers.
Scroll down to see the award-winning communities in your state!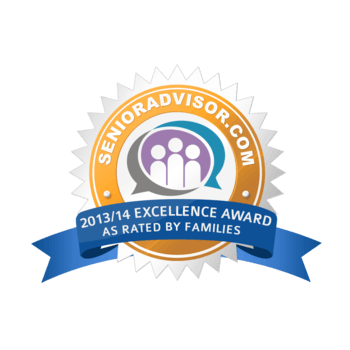 Top-Rated Senior Living Communities in Alabama
Danberry at Inverness - Hoover, AL
Eastdale Estates - Montgomery, AL
Limestone Lodge - Athens, AL
The Brennity at Daphne - Daphne, AL
Town Village Vestavia Hills - Birmingham, AL
Top-Rated Senior Living Communities in Arkansas
Butterfield Place - Fort Smith, AR
Top-Rated Senior Living Communities in Arizona
Atria Bell Court Gardens - Tucson, AZ
Clare Bridge of Tempe - Tempe, AZ
Desert Breeze - Chandler, AZ
Emeritus at Olive Grove - Phoenix, AZ
Emeritus at Peoria - Peoria, AZ
Park Regency - Chandler, AZ
Sterling House of Mesa - Mesa, AZ
Sterling House of Peoria - Peoria, AZ
Sunrise of Chandler - Chandler, AZ
The Manor At Midvale - Tucson, AZ
The Sanctuary of Phoenix - Phoenix, AZ
The Summit at Sunland Springs - Mesa, AZ
Westchester Senior Living - Tempe, AZ
Wooddale Village - Sun City, AZ
Top-Rated Senior Living Communities in California
3 Sisters Hacienda - Escondido, CA
Accent Living - Laguna Niguel, CA
Allison's Home Care - Diamond Bar, CA
Amber Elder Care - Torrance, CA
Anaheim Village - Anaheim, CA
Atria Bayside Landing - Stockton, CA
Atria El Camino Gardens - Carmichael, CA
Atria Grass Valley - Grass Valley, CA
Atria Hacienda - Palm Desert, CA
Atria Las Posas - Camarillo, CA
Atria Tarzana - Tarzana, CA
Atria Vintage Hills - Temecula, CA
Belmont Village Sabre Springs - San Diego, CA
Brittany House - Long Beach, CA
California Mission Inn - Rosemead, CA
Camden Springs - Elk Grove, CA
Carezza Guest Home - Rancho Palos Verdes, CA
Carmel Village Retirement - Fountain Valley, CA
Chancellor Place of Lodi - Lodi, CA
Chancellor Place of Murrieta - Murrieta, CA
Columbus Estates - Bakersfield, CA
Country Club North - Los Angeles, CA
Creekside Oaks - Folsom, CA
Cypress Meadows - Antioch, CA
Dale Commons - Modesto, CA
East West Care Redwood City II - Redwood City, CA
Elite Manor - San Dimas, CA
Emeritus at Apple Valley - Apple Valley, CA
Emeritus at Atherton Court - Fremont, CA
Emeritus at Bakersfield - Bakersfield, CA
Emeritus at Chateau Whittier - Whittier, CA
Emeritus at Leisure Town - Vacaville, CA
Emeritus at Orchard Park - Clearlake, CA
Emeritus at Rohnert Park - Rohnert Park, CA
Emeritus at Santa Rosa - Santa Rosa, CA
Emeritus at Vacaville - Vacaville, CA
Eskaton Monroe Lodge - Sacramento, CA
Fig Garden - Fresno, CA
Glen Park West - Glendale, CA
Golden Age Retirement Home - Millbrae, CA
Golden Hills Care Home - San Jose, CA
Golden Horizon Home I - Riverside, CA
Golden Oaks - Yucaipa, CA
Happy Living Facility - Fresno, CA
Hawkins Suite - Escondido, CA
Heritage Estates - Livermore, CA
Hilltop Estates - Redding, CA
Jace Guest Home - Chino, CA
K's Loving Care in Yorba Linda - Yorba Linda, CA
Montecito Manor - Watsonville, CA
Oak Grove Residential Care Home - San Jose, CA
Orchard Park - Clovis, CA
Pacific Pines Manor - Redlands, CA
Pacifica Senior Living Escondido - Escondido, CA
Paradise Home II - Murrieta, CA
Paradise Place - Thousand Oaks, CA
Prestige Assisted Living at Marysville - Marysville, CA
Prestige Assisted Living at Visalia - Visalia, CA
Prestige Senior Living at Manteca - Manteca, CA
Raincross at Riverside - Riverside, CA
Redwood - Napa, CA
Redwood Villa - Mountain View, CA
Royal Palms Guest Home - Eastvale, CA
Silverado Senior Living at San Juan Capistrano - San Juan Capistrano, CA
Silverado Senior Living Beach Cities - Redondo Beach, CA
Standiford Place - Modesto, CA
Sun Oak Assisted Living - Citrus Heights, CA
Sunrise at Sterling Canyon - Valencia, CA
Sunrise of Beverly Hills - Beverly Hills, CA
Sunrise of Fair Oaks - Fair Oaks, CA
Sunrise of Hermosa Beach - Hermosa Beach, CA
Sunrise of Palo Alto - Palo Alto, CA
Sunrise of Tustin - Santa Ana, CA
Sunrise of Walnut Creek - Walnut Creek, CA
Sunrise of West Hills - West Hills, CA
Sunshine Care Assisted Living and Memory Care - Poway, CA
The Palms - La Mirada, CA
The Regency - Laguna Woods, CA
Villa Fontana Retirement - San Jose, CA
Village Green - Gilroy, CA
Vintage Villa San Ramon - San Ramon, CA
Vista Gardens - Vista, CA
Windchime of Chico - Chico, CA
Yosemite Gardens - Clovis, CA
Top-Rated Senior Living Communities in Colorado
Catharine's Quality of Life Homes - Littleton, CO
Cherry Creek Retirement Village - Aurora, CO
Emeritus at Bear Creek - Colorado Springs, CO
Harvard Square - Denver, CO
Hillcrest of Loveland - Loveland, CO
Keystone Place at Legacy Ridge - Westminster, CO
Lakeview Senior Living - Denver, CO
Lincoln Meadows Senior Living - Parker, C
Popa's Home - Colorado Springs, CO
Sunrise of Westminster - Westminster, CO
The Meridian - Arvada, CO
Top-Rated Senior Living Communities in Connecticut
Academy Point At Mystic - Mystic, CT
Atria Stratford - Stratford, CT
Coachman Square at Woodbridge - Woodbridge, CT
MiddleBrook Farms at Trumbull - Trumbull, CT
The Gables At Guilford - Guilford, CT
The Orchards At Southington - Southington, CT
White Oaks - Manchester, CT
Top-Rated Senior Living Communities in Delaware
Brandywine Senior Living at Fenwick Island - Selbyville, DE
Top-Rated Senior Living Communities in Florida
Atria Baypoint Village - Hudson, FL
Atria Evergreen Woods - Spring Hill, FL
Emeritus at Naples - Naples, FL
Emeritus at Oak Park - Clermont, FL
Grand Court Tavares - Tavares, FL
Heron East - Sarasota, FL
Isles of Vero Beach - Vero Beach, FL
Las Palmas - Palm Coast, FL
Newport Place - Boynton Beach, FL
Shiela's Home Care - Land O' Lakes, FL
Spring Hills Hunters Creek - Orlando, FL
Stratford Court at Boca Pointe - Boca Raton, FL
Sun City Senior Living - Ruskin, FL
The Barrington - Largo, FL
The Blake at Gulf Breeze - Gulf Breeze, FL
The Hampton at Clearwater - Clearwater, FL
The Palace Suites, Royale, and Renaissance - Miami, FL
Venetian Gardens - Venice, FL
Vi at Lakeside Village - Lantana, FL
Westminster Palms - St. Petersburg, FL
Wyndham Lakes - Jacksonville, FL
Top-Rated Senior Living Communities in Georgia
Amberley Senior Community - Dallas, GA
Arbor Terrace at Cascade - Atlanta, GA
Arbor Terrace Peachtree City - Peachtree City, GA
Ashford Parkside - Atlanta, GA
Ashton Walk Apartments - Forest Park, GA
Aspen Village Assisted Living - Dallas, GA
Atria Mableton - Austell, GA
Bentley at Northminster - Jefferson, GA
Benton House of Covington - Covington, GA
Benton House of Sugar Hill - Sugar Hill, GA
Clairmont Oaks - Decatur, GA
Corner Stone Personal Care Home - Riverdale, GA
Divine Connections - Lithia Springs, GA
Dogwood Forest of Stockbridge/Eagle's Land - Stockbridge, GA
Emeritus at Sandy Springs Place - Atlanta, GA
Governor's Glen Memory Impaired Community - Forest Park, GA
Hope Memory Care Center - Dacula, GA
Horizon Bay Rome - Rome, GA
Laurel Grove - Lawrenceville, GA
Morningside of Conyers - Conyers, GA
Parkland Manor - Austell, GA
Philips Presbyterian Tower - Decatur, GA
Plantation South of Duluth - Duluth, GA
Riverplace - Columbus, GA
Safe Haven at Lenox Park - Atlanta, GA
Savannah Commons - Savannah, GA
Serenity Mountain Manor - Jasper, GA
Summer's Landing - Monroe, GA
Sunrise at Five Forks - Lilburn, GA
Sweetwater Terraces - Duluth, GA
The Lodge at Bridgemill - Canton, GA
Vernon Woods Retirement Community - Lagrange, GA
Washington Commons - Evans, GA
Top-Rated Senior Living Communities in Iowa
The Legacy Community - Iowa City, IA
Thomas Place at Waukee - Waukee, IA
Walden Place - Iowa City, IA
Top-Rated Senior Living Communities in Idaho
The Cottages of Boise - Boise, ID
Top-Rated Senior Living Communities in Illinois
Arden Courts of South Holland - South Holland, IL
Autumn Leaves of Orland Park - Orland Park, IL
Central Baptist Village - Norridge, IL
Essington Place - Joliet, IL
Fox Point - McHenry, IL
Grand Victorian of Rockford - Rockford, IL
Heritage Woods of Huntley - Huntley, IL
Heritage Woods of Manteno - Manteno, IL
Kiwanis London House - Peoria, IL
Lexington Health Care Center of Schaumburg, I - Schaumburg, IL
Senior Suites of Auburn Gresham - Chicago, IL
Senior Suites of Garfield Ridge - Chicago, IL
Senior Suites of South Shore - Chicago, IL
Sunrise at Fountain Square - Lombard, IL
Sunrise of Palos Park - Palos Park, IL
Tamarack - Palatine, IL
The Atrium - Rockford, IL
The Fountains of Godfrey - Godfrey, IL
The Ivy Apartments - Chicago, IL
The Kenwood of Lake View - Chicago, IL
The Meadows of Glen Ellyn - Glen Ellyn, IL
The Neighbors Next Door - Gerten 1 - Aurora, IL
Victory Centre of Bartlett - Bartlett, IL
Top-Rated Senior Living Communities in Indiana
Berkshire of Castleton - Indianapolis, IN
Brentwood at Hobart - Hobart, IN
Clare Bridge of Carmel - Carmel, IN
Clare Bridge of Valparaiso - Valparaiso, IN
Eastlake Terrace - Elkhart, IN
El Beulah Senior Village - Indianapolis, IN
Tanglewood Trace - Mishawaka, IN
Westside Garden Plaza - Indianapolis, IN
Top-Rated Senior Living Communities in Kansas
Cornerstone Ridge Plaza - Wichita, KS
Cypress Springs Alzheimer's & Memory Support - Overland Park, KS
Shawnee Hills Senior Living - Shawnee, KS
Sterling House of Tallgrass - Wichita, KS
Sunrise of Lenexa - Lenexa, KS
Top-Rated Senior Living Communities in Kentucky
Atria Springdale - Louisville, KY
Atria Stony Brook - Louisville, KY
Panorama Senior Citizen Apt - Covington, KY
Sunrise of Louisville - Louisville, KY
The Forum at Brookside - Louisville, KY
Top-Rated Senior Living Communities in Louisiana
Landing At Behrman Place - New Orleans, LA
Top-Rated Senior Living Communities in Massachusetts
Atria Draper Place - Hopedale, MA
Autumn Glen - Dartmouth, MA
Avita of Needham - Needham, MA
Compass on the Bay - South Boston, MA
Emeritus at Plymouth Beach - Plymouth, MA
New Horizons at Marlboro - Marlborough, MA
Plymouth Crossings - Plymouth, MA
Putnam Farm at Danvers - Danvers, MA
The Falls At Cordingly Dam - Newton, MA
The Residences at Wingate - Needham, MA
Traditions of Dedham - Dedham, MA
Waltham Crossings - Waltham, MA
Top-Rated Senior Living Communities in Maryland
Alta at Regency Crest - Ellicott City, MD
Bedford Court - Silver Spring, MD
Brightview Avondell - Bel Air, MD
Brightview Fallsgrove - Rockville, MD
Emeritus at Pikesville - Pikesville, MD
Emeritus at Towson - Towson, MD
Five Star Premier Residences of Chevy Chase - Chevy Chase, MD
HeartLands SL Village at Ellicott City - Ellicott City, MD
Morningside House At Satyr Hill - Parkville, MD
Morningside House of Friendship - Hanover, MD
Morningside House of Laurel - Laurel, MD
Pickersgill Retirement Community - Towson, MD
Somerford House & Place Hagerstown - Hagerstown, MD
Southwinds 1 - White Plains, MD
St. Paul Senior Living - Capitol Heights, MD
The Greens at Liberty Road - Randallstown, MD
The Residence at Greenbelt - Lanham, MD
The Woodlands - Baltimore, MD
Victory Terrace - Potomac, MD
Top-Rated Senior Living Communities in Maine
Fallbrook Woods - Portland, ME
Scarborough Terrace - Scarborough, ME
Sunnybrook Village - Brunswick, ME
The Woods At Canco - Portland, ME
Winterberry Heights Assisted Living - Bangor, ME
Top-Rated Senior Living Communities in Michigan
Ambrosia Villa - Bloomfield Township, MI
American House Southland Senior Living - Taylor, MI
American House Village Senior Living - Rochester Hills, MI
Angelic Foster Care - Warren, MI
Aurora Pond - Grand Rapids, MI
Autumn Ravines - Southfield, MI
Brookhaven Manor - Ann Arbor, MI
Brownstown Forest View Assisted Living - Brownstown, MI
Chester Street Residence - Royal Oak, MI
Genesee Gardens - Flint, MI
Lincoln Square - Grand Rapids, MI
Lockwood of Waterford - Waterford, MI
Maple Heights Retirement Community - Allen Park, MI
Oakmont Manor - Sterling Heights, MI
Olive Branch Senior Assisted - Perry, MI
Park Place - Warren, MI
Prestige Pines - DeWitt, MI
Sanctuary at Marian Oakland - Farmington Hills, MI
Sunrise at North Farmington Hills - Farmington Hills, MI
Town Village Sterling Heights - Sterling Heights, MI
Villa Maria Retirement Community - Grand Rapids, MI
Village Manor Retirement of Hartland - Howell, MI
Waltonwood at Cherry Hill - Canton, MI
Top-Rated Senior Living Communities in Minnesota
Kingsway Retirement Living - Belle Plaine, MN
Prelude Homes & Services - Woodbury, MN
Summit Place Senior Campus - Eden Prairie, MN
The Kenwood - Minneapolis, MN
Top-Rated Senior Living Communities in Missouri
Autumn View Gardens - St. Louis, MO
Benton House of Lee's Summit - Lee's Summit, MO
Capetown & Cottages at Capetown - Cape Girardeau, MO
Emeritus at Oak Tree Village - St. Peters, MO
Red Bridge Place Apartments - Kansas City, MO
Riverstone - Kansas City, MO
St Catherine Retirement Community - Florissant, MO
Sunrise on Clayton - Richmond Heights, MO
The Fountains At Greenbriar - Independence, MO
The Hallmark of Creve Coeur - Creve Coeur, MO
The Solana West County - Ballwin, MO
Top-Rated Senior Living Communities in Mississippi
Emeritus at Ridgeland Pointe - Ridgeland, MS
Emeritus at Trace Pointe - Clinton, MS
Top-Rated Senior Living Communities in North Carolina
Arbor Ridge at Kernersville - Kernersville, NC
Brighton Gardens of Raleigh - Raleigh, NC
Brighton Gardens of Winston-Salem - Winston-Salem, NC
Carolina Estates - Greensboro, NC
Carriage House Senior Living Community - Greensboro, NC
Clare Bridge of Asheville - Asheville, NC
Oak Park Retirement - Salisbury, NC
Regency Retirement Village - Charlotte, NC
Spring Arbor of Greensboro - Greensboro, NC
Sunrise at North Hills - Raleigh, NC
Sunrise on Providence - Charlotte, NC
The Woods At Holly Tree - Wilmington, NC
Top-Rated Senior Living Communities in Nebraska
Elk Ridge Village on the Lake - Elkhorn, NE
Top-Rated Senior Living Communities in New Hampshire
Forestview Manor Assisted Living - Meredith, NH
Top-Rated Senior Living Communities in New Jersey
AristaCare @ Cherry Hill - Cherry Hill, NJ
Bayville Manor - Bayville, NJ
Brandywine Senior Living at Brandall Estates - Linwood, NJ
Brandywine Senior Living at Howell - Howell, NJ
Brandywine Senior Living at Pennington - Pennington, NJ
Brightview Greentree - Marlton, NJ
Brightview Woodbury Lake - Woodbury, NJ
Canterbury Village - West Orange, NJ
CareOne at Morris - Parsippany, NJ
Colonial Manor - Allamuchy, NJ
Emeritus at Voorhees - Voorhees, NJ
Five Star Premier Residences of Teaneck - Teaneck, NJ
Green Hill Retirement Community - West Orange, NJ
Leisure Park - Lakewood, NJ
Spring Village at Galloway - Galloway, NJ
The Brookside Assisted Living - Freehold, NJ
The Fountains at Cedar Parke - Atco, NJ
Top-Rated Senior Living Communities in New Mexico
Fairwinds - Rio Rancho, NM
Top-Rated Senior Living Communities in Nevada
Atria Summit Ridge - Reno, NV
Top-Rated Senior Living Communities in New York
Atria Briarcliff Manor - Briarcliff Manor, NY
Atria of Forest Hills - Forest Hills, NY
Atria Plainview - Plainview, NY
Atria Tanglewood - Lynbrook, NY
Atria West 86 - New York, NY
Emeritus at East Side Manor - Fayetteville, NY
Fleming Point - Rochester, NY
Holiday at the Atrium - Glenville, NY
Maplewood Estates - Fairport, NY
Montgomery Park - East Amherst, NY
Sterling House of Niagara - North Tonawanda, NY
Sunrise of East Setauket - East Setauket, NY
Sunrise of Mill Basin - Brooklyn, NY
Sunrise of North Lynbrook - Lynbrook, NY
Sunrise of Plainview - Plainview, NY
The Bristal at North Woodmere - North Woodmere, NY
The Bristal at Westbury - Westbury, NY
The Gables at Brighton - Rochester, NY
Top-Rated Senior Living Communities in Ohio
10 Wilmington Place - Dayton, OH
Alexis Gardens - Toledo, OH
Amelia Grace Assisted Living - Chesterland, OH
Cottingham Retirement Community - Cincinnati, OH
Elmcroft of Lorain - Lorain, OH
Emeritus at Long Cove Pointe - Mason, OH
Emeritus at Pinnacle - Grove City, OH
Hamilton House Apartments - Mayfield Heights, OH
Lincoln Lodge Retirement Residence - Columbus, OH
Otterbein Retirement Living Community - Lebanon, OH
Our Family Home - Worthington, OH
Parkside Senior Living - Westerville, OH
Precious Care Assisted Living - Concord Township, OH
Sterling House of Barberton - Barberton, OH
Sterling House of Lancaster - Lancaster, OH
Sterling House of Newark - Newark, OH
Sunrise of Rocky River - Rocky River, OH
The Inn at Fairfield Village - Lancaster, OH
The Inn at Olentangy Trail - Delaware, OH
The Inn at Renaissance Village - Middletown, OH
Town Square Senior Apartments - Cincinnati, OH
Valley Creek Retirement - Cincinnati, OH
Westerly Apartments - Lakewood, OH
Top-Rated Senior Living Communities in Oklahoma
Copper Lake Estates - Edmond, OK
Elmcroft of Quail Springs - Oklahoma City, OK
Top-Rated Senior Living Communities in Oregon
Aspen Ridge Retirement Residence - Bend, OR
Assisted Living at Summerplace - Portland, OR
Avamere at Bethany - Portland, OR
Cherry Blossom Cottage - Portland, OR
Clare Bridge of Salem - Salem, OR
Edgewood Downs - Beaverton, OR
Horizon Village Community - Grants Pass, OR
Redwood Heights Assisted Living - Salem, OR
Sheldon Park - Eugene, OR
Top-Rated Senior Living Communities in Pennsylvania
Atria Bethlehem - Bethlehem, PA
Spring Mill Senior Living - Phoenixville, PA
Sunrise Senior Living of Granite Run - Media, PA
The Chandler Estate - Pen Argyl, PA
The Devonshire of Mt. Lebanon - Pittsburgh, PA
The Manor At Oakridge - Harrisburg, PA
The Solana Horsham - North Wales, PA
Traditions of Hanover - Bethlehem, PA
Walnut Woods of Boyertown - Boyertown, PA
Wesley Enhanced Living at Stapeley - Philadelphia, PA
Top-Rated Senior Living Communities in Rhode Island
Atria Aquidneck Place - Portsmouth, RI
Atria Harborhill - East Greenwich, RI
Atria Lincoln Place - Lincoln, RI
The Village at Waterman Lake - Greenville, RI
Top-Rated Senior Living Communities in South Carolina
Ashley Park - Charleston, SC
Emeritus at Hawthorne Inn at Greenville - Greenville, SC
Emeritus at Lexington Gardens - West Columbia, SC
Harborchase of Rock Hill - Rock Hill, SC
Legacy of Anderson Senior Living Community - Anderson, SC
Morningside of Anderson - Anderson, SC
Summerville Estates - Summerville, SC
Westminster - Greenville, SC
Top-Rated Senior Living Communities in Tennessee
Carrick Glen - Mount Juliet, TN
Echo Ridge - Knoxville, TN
Elmcroft of Shallowford - Chattanooga, TN
Elmcroft of Twin Hills - Madison, TN
Provision Living at Hermitage - Hermitage, TN
Regency House Assisted Living - Hixson, TN
Robinwood Retirement Resort - Bartlett, TN
Stones River Manor - Murfreesboro, TN
The Solana Germantown - Germantown, TN
Town Village Audubon Park - Memphis, TN
Wellington Place of Maryville - Maryville, TN
Wesley Highland Terrace - Memphis, TN
Windlands East - Madison, TN
Top-Rated Senior Living Communities in Texas
Acadia Assisted Living - Dallas, TX
Arbor Hills Memory Care - Plano, TX
Atria at Hometown - North Richland Hills, TX
Atria Sugar Land - Sugar Land, TX
Autumn Leaves at Fossil Creek - Fort Worth, TX
Autumn Leaves of Carrollton - Carrollton, TX
Autumn Leaves of Cy-Fair - Houston, TX
Autumn Leaves of Grapevine - Grapevine, TX
Avalon Residential Care Home - Arlington, TX
Bethel Senior Care - Garland, TX
Colonial Oaks at Vista - Pasadena, TX
Cottage Village - Lubbock, TX
Emeritus at Meadowlands Terrace - Waco, TX
Emeritus at Oak Hollow - Bedford, TX
Garden Estates of Temple - Temple, TX
Garden Estates of Tyler - Tyler, TX
Georgetown Living - Georgetown, TX
Grace Memory Care - Spring, TX
Grace Memory Care II - Spring, TX
Gracious Care Home - Allen, TX
Harbor Place - Corpus Christi, TX
Horizon Bay Grand Prairie - Grand Prairie, TX
Isle at Watermere - Southlake, TX
Lexington Place Richland Hills - Richland Hills, TX
Magnolia Heights Assisted Living & Memory Care - Spring, TX
Meadowbrook Memory Care - Arlington, TX
Pfamily Tree Assisted Living - Pflugerville, TX
Renaissance - Sherman, TX
Signature Pointe On the Lake - Dallas, TX
Sterling House of Kerrville - Kerrville, TX
Sunrise of Fort Worth - Fort Worth, TX
The Conservatory at Alden Bridge - The Woodlands, TX
The Forum at the Woodlands - The Woodlands, TX
The Hampton at Cypress Station - Houston, TX
The Hampton at Meadows Place - Meadows Place, TX
The Hampton at Pinegate - Houston, TX
The Solana at Cinco Ranch - Katy, TX
The Terrace - Champions - Houston, TX
The Terrace - Clear Lake - Webster, TX
The Vantage at Cityview - Fort Worth, TX
Town Village Ridgmar - Fort Worth, TX
University Place - Abilene, TX
University Village - Round Rock, TX
Whiterock Court - Dallas, TX
Wyoming Springs Assisted Living - Round Rock, TX
Top-Rated Senior Living Communities in Utah
Abbington Manor - Lehi, UT
Bel Aire Senior Living - American Fork, UT
Sunrise of Sandy - Sandy, UT
Top-Rated Senior Living Communities in Virginia
Arbor Terrace of Herndon - Herndon, VA
Clare Bridge of Virginia Beach Estates - Virginia Beach, VA
Colonial Harbor - Yorktown, VA
Dominion Village at Chesapeake - Chesapeake, VA
Greenfield of Stafford - Stafford, VA
Greenfield of Strasburg - Strasburg, VA
Jamestown Commons - Virginia Beach, VA
Lighthouse Pointe - Chesapeake, VA
Meadow Glen of Leesburg - Leesburg, VA
Morris Glen - Alexandria, VA
Stuarts Draft Retirement Community - Stuarts Draft, VA
Sunrise at Hunter Mill - Oakton, VA
Sunrise Braddock Glen - Fairfax, VA
The Chamberlin - Fort Monroe, VA
The Colonnades - Charlottesville, VA
The Crossings at Falls Run - Fredericksburg, VA
The Fairfax - Fort Belvoir, VA
The Park-Oak Grove Retirement Community - Roanoke, VA
The Reserve at Greenbrier - Chesapeake, VA
Top-Rated Senior Living Communities in Washington
Abundant Life Lynnwood - Lynnwood, WA
Broadway Court Estates - Spokane, WA
Brookdale Place at Harbor Crest - Spokane, WA
Cascades of Bremerton - Bremerton, WA
Chateau at Valley Center - Renton, WA
Emeritus at Silverdale - Silverdale, WA
Farrington Court - Kent, WA
Garden Court - Everett, WA
Hawthorne Court - Kennewick, WA
House of Hope AFH - Tacoma, WA
Parkview Estates - Kennewick, WA
Peters Creek Retirement and Assisted Living - Redmond, WA
Queen Anne Manor - Seattle, WA
Stanwood - Managed by Emeritus - Stanwood, WA
Sullivan Park Assisted Living Community - Spokane, WA
Van Mall - Vancouver, WA
Vancouver - Managed by Emeritus - Vancouver, WA
Top-Rated Senior Living Communities in Wisconsin
All Saints Retirement Center - Madison, WI
Artisan Senior Living Lake Geneva - Lake Geneva, WI
Bellevue - Green Bay, WI
Clare Bridge of Sun Prairie - Sun Prairie, WI
Creek Side Manor - Oak Creek, WI
Ellen's Home of Germantown - Germantown, WI
Emeritus at Fox River - Appleton, WI
Forest Ridge - Hales Corner, WI
Harmony at Brenwood Park - Franklin, WI
Harmony of Madison - Madison, WI
Heritage Place Brookfield - Brookfield, WI
Heritage West Allis - West Allis, WI
Hyland Park of Sun Prairie - Sun Prairie, WI
KindredHearts of Sun Prairie - Sun Prairie, WI
Moraine Ridge Senior Living - Green Bay, WI
ProHealth Care Regency Senior Communities - Muskego, WI
St. Camillus - Wauwatosa, WI
Sterling House of Kenosha - Kenosha, WI
Summit Woods - Waukesha, WI
Westminster Senior Housing - Madison, WI