Best Senior Care Providers of 2017
Winners of the SeniorAdvisor.com Best of 2018 Awards are located all over the United States and Canada and represent the top tier of in-home care, assisted living, and other senior living providers in the country. This exclusive designation places the winners in the top one percent of senior care providers in the United States and Canada according to those who matter most - their families.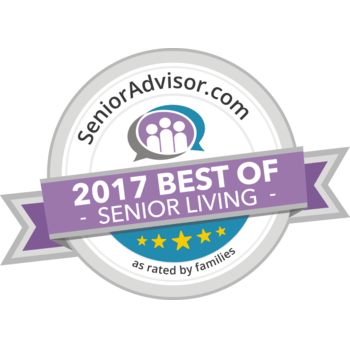 Scroll down to see the best-of-the-best, award-winning communities in your state.
Top-Rated Senior Care in Alabama
Rocky Ridge Retirement Community - Hoover, AL
Gardens of Wetumpka - Wetumpka, AL
Limestone Manor - Athens, AL
FirstLight Home Care of Mobile & Baldwin County - Daphne, AL
Elmcroft of Grayson Valley - Birmingham, AL
Synergy Home Care - Birmingham, AL
Top-Rated Senior Care in Alberta
Arbour Lake - Calgary, AB
Canyon Meadows - Calgary, AB
Village at the Hamptons - Edmonton, AB
Ironwood Estates - Saint Albert, AB
Top-Rated Senior Care in Arkansas
West Shores - Hot Springs, AR
Apple Blossom - Rogers, AR
Elmcroft of Mountain Home - Mountain Home, AR
Heritage Inn Retirement Center - Clarksville, AR
Elmcroft of Maumelle - Maumelle, AR
Home Helpers - Little Rock, AR
Top-Rated Senior Care in Arizona
A Place in the Sun - Scottsdale, AZ
Senior Care Management Solutions, LLC. - Phoenix, AZ
Elmcroft of Tempe - Tempe, AZ
Belmont Village Scottsdale - Scottsdale, AZ
Atria Bell Court Gardens - Tucson, AZ
Park Wood Retirement Community  - Surprise, AZ
The Summit at Sunland Springs - Mesa, AZ
Westchester Senior Living - Tempe, AZ
Desert Rose - Yuma, AZ
The Gardens of Sun City - Sun City, AZ
Valley Oasis Adult Care Home - Glendale, AZ
Villa Hermosa - Tucson, AZ
Cerna Homecare - Phoenix, AZ
Tuscany at McCormick Ranch - Scottsdale, AZ
Altercare Assisted Living Home - Mesa, AZ
Palos Verdes Senior Living - Peoria, AZ
Gentle Care Home - Surprise, AZ
Aurora Place - Apache Junction, AZ
Powell Place - Payson, AZ
Davis Place - Bullhead City, AZ
Atria Campana Del Rio - Tucson, AZ
Always on Healthcare - Peoria, AZ
Discovery Point Retirement Community - Mesa, AZ
White Cliffs Senior Living - Kingman, AZ
Summerfield at Jacinto - Mesa, AZ
The Woodmark at Sun City - Sun City, AZ
Home With Help - Scottsdale, AZ
Desert Breeze - Chandler, AZ
The Stratford at Phoenix - Phoenix, AZ
Synergy Home Care - Sun City - Sun City, AZ
All Care Assisted - Surprise, AZ
24 Hour Home Care- Scottsdale, AZ
I Need An Angel, Inc. - Scottsdale, AZ
Madeira Villa Assisted Living, LLC - Chandler, AZ
Magda's Family Home Care LLC - Phoenix, AZ
Pacifica Senior Living Tucson - Tucson, AZ
Hacienda Del-Rey - Litchfield Park, AZ
Castle Canyon Assisted Living - Chandler, AZ
Silver Creek Inn Memory Care - Mesa, AZ
Thunderbird Senior Living - Glendale, AZ
Silverado Peoria - Peoria, AZ
Oasis at Mesa Palms - Mesa, AZ
Silver Creek Leisure Living - Bullhead City, AZ
Scottsdale Village Square - Scottsdale, AZ
Desert Steppes Adult Care - Tucson, AZ
Via Elegante Luxury Assisted Living - Tucson, AZ
A Touch of Elegance - Peoria, AZ
Senior Helpers - Tucson, AZ
Fairwinds - Desert Point - Oro Valley, AZ
Pathways- Goodyear, AZ
Cypress Point Retirement Community - Casa Grande, AZ
Cascades of Tucson - Tucson, AZ
Gardens at Ocotillo Senior Living - Chandler, AZ
Copper Creek Inn - Chandler, AZ
The Fountains at La Cholla - Tucson, AZ
Pacifica Senior Living Paradise Valley - Phoenix, AZ
Villas at Deer Valley - Phoenix, AZ
Kingswood Place - Surprise, AZ
Sunrise of Chandler - Chandler, AZ
The Groves, A Merrill Gardens Community - Goodyear, AZ
Country Club at La Cholla - Tucson, AZ
Sunrise at River Road - Tucson, AZ
Aventa Senior Care of Phoenix - Phoenix, AZ
Top-Rated Senior Care in British Columbia
The Victorian at McKenzie - Victoria, BC
Astoria Retirement Residence - Port Coquitlam, BC
White Rock Seniors Village - White Rock, BC
Bear Creek Villa - Surrey, BC
The Heritage Retirement Residence - West Kelowna, BC
Top-Rated Senior Care in California
Brunswick Village Assisted Living - Grass Valley, CA
Villa Fontana Retirement - San Jose, CA
Orangeburg Manor - Modesto, CA
Belmont Village Hollywood - Los Angeles, CA
Be Well Senior Living II, Inc - Sherman Oaks, CA
24 Hr HomeCare - Culver City, CA
24 Hr HomeCare - Irvine, CA
Pomerado Manor - Poway, CA
Paradise Senior Living - Northridge, CA
Camden Springs - Elk Grove, CA
Dignity Care Home #1 - North Hills, CA
Belmont Village RPV - Rancho Palos Verdes, CA
Hilltop Commons - Grass Valley, CA
Eskaton Lodge Cameron Park - Cameron Park, CA
Leisure Pointe - San Bernardino, CA
Villa Celerina - Cerritos, CA
Creekside Oaks - Folsom, CA
Green Tree Home Care, LLC - San Diego, CA
Sterling Commons - Victorville, CA
Forever Young Memory Care - Santa Ana, CA
Park Kingsburg Apts - Kingsburg, CA
Fig Garden - Fresno, CA
Hilltop Estates - Redding, CA
Champine Manor - Escondido, CA
Welbrook Arlington - Riverside, CA
The Meadows Senior Living - Elk Grove, CA
Atria Covina - Covina, CA
Quail Park on Cypress - Visalia, CA
Fremont Hills - Fremont, CA
Preferred Care at Home - Walnut Creek, CA
Regency of Evergreen Valley - San Jose, CA
Oakmont of Escondido Hills - Escondido, CA
The Fair Oaks by Regency Park - Pasadena, CA
Inland Christian Home Inc. - Ontario, CA
Atria Bayside Landing - Stockton, CA
Regency Grand at West Covina - West Covina, CA
Blessed Family Living II - Simi Valley, CA
Golden Coast Senior Living #5 - Fountain Valley, CA
Honeysuckle Comfort Home - Fairfield, CA
Laguna Niguel Care Home - Laguna Niguel, CA
Golden Oaks Senior Apartments - South Pasadena, CA
Merrill Gardens at Campbell - Campbell, CA
Golden Cascade - Chino Hills, CA
Family Style Care II - San Diego, CA
Seventh Heaven Care Home - Rodeo, CA
Pacific Gardens - Santa Clara, CA
Our Family Care Home - Vista, CA
Nazareth Rose Garden of Napa - Napa, CA
Atria San Juan - San Juan Capistrano, CA
Fairwinds - Ivey Ranch - Oceanside, CA
Atria Tamalpais Creek - Novato, CA
Alternative Senior Care - Fullerton, CA
Brightwater Senior Living of Highland - Highland, CA
Atria Rancho Park - San Dimas, CA
Mountain View Assisted Living and Memory Care - Ukiah, CA
Eternal Life Assisted Living - Van Nuys, CA
The Pines, A Merrill Gardens Community - Rocklin, CA
Never Alone Living Assistance - Temecula, CA
Villa Valencia - Laguna Hills, CA
The Palms - La Mirada, CA
Sterling Inn - Victorville, CA
Golden Tuscany Care - Anaheim, CA
St. John of God Retirement and Care Center - Los Angeles, CA
Sunrise of Tustin - Santa Ana, CA
Sunrise of Walnut Creek - Walnut Creek, CA
Belmont Village San Jose - San Jose, CA
Waterford Terrace - La Mesa, CA
Merrill Gardens at Lafayette - Lafayette, CA
Pacifica Senior Living Newport Mesa - Costa Mesa, CA
Sunrise of Seal Beach - Seal Beach, CA
Sunrise of Bonita - Chula Vista, CA
Welbrook South Bay - Torrance, CA
Oakmont of Fresno - Fresno, CA
Oakmont of Roseville - Roseville, CA
Revere Court Memory Care - Sacramento, CA
Parkview Residential Care Home II - Sunnyvale, CA
Trudez Homecare - Valencia, CA
Home Care Assistance of El Dorado County - El Dorado Hills, CA
Bella Care Home LLC - Clovis, CA
CHATEAU LONG BEACH - Long Beach, CA
Belmont Village Burbank - Burbank, CA
Homewatch CareGivers Of San Juan Capistrano - San Juan Capistrano, CA
Golden Coast Senior Living #10 - Mission Viejo, CA
Silvergate Retirement Residence - Fallbrook, CA
Regency Park Oak Knoll - Pasadena, CA
Glen Terra - Glendale, CA
The Chateau at Harveston - Temecula, CA
Lilac Chateau I - Santee, CA
Stetson Court Living - Stockton, CA
Merrill Gardens at Santa Maria - Santa Maria, CA
Sunrise of Huntington Beach - Huntington Beach, CA
Valley Comfort Inc. - Modesto, CA
Solstice Senior Living at Auburn - Auburn, CA
Harbor Terrace - San Pedro, CA
Sungarden Terrace - Lemon Grove, CA
M & M Senior Living - Orangevale, CA
Atria Golden Creek - Irvine, CA
Palos Verdes Villa - Rancho Palos Verdes, CA
Crosswood Oaks - Citrus Heights, CA
Campus Commons Senior Living - Sacramento, CA
Honor - San Francisco, CA
Oakmont of Chino Hills - Chino Hills, CA
Capriana - Brea, CA
Oakmont of San Antonio Heights - Upland, CA
Comfort Keepers - Buena Park, CA
Sweet Home Care - Midway City, CA
CSS Home Care and Senior Services - Oakland, CA
Beechnut Boarding Care - Pomona, CA
Montessori Senior Residential Care - Brentwood, CA
24 Hr HomeCare - Walnut Creek, CA
Kindred at Home - Campbell, CA
Agate Manor - Menifee, CA
Castle Vista - Atwater, CA
Silva Board and Care - Santa Rosa, CA
St. Paul's Plaza - Chula Vista, CA
Vista Gardens - Vista, CA
Foothill Retirement - Tujunga, CA
Sunrise of La Palma - La Palma, CA
Sunrise of Hermosa Beach - Hermosa Beach, CA
Sunrise at Wood Ranch - Simi Valley, CA
Livermore Valley Senior Living - Livermore, CA
Westminster Gardens - Duarte, CA
1 Saint - Cerritos, CA
California Elder Home Care, Inc - Encino, CA
Adult Home Health Care - San Diego, CA
Palomino Residential Care - Monterey Park, CA
Solano Life House - Dixon, CA
Silvergate Retirement Residence - San Marcos, CA
Montclair Royale Senior Living - Montclair, CA
Carmel Village Retirement - Fountain Valley, CA
The Hampshire - Merced, CA
Sunrise of Beverly Hills - Beverly Hills, CA
Carlton Plaza of Sacramento - Sacramento, CA
Integrated Care Communities - Moreno Valley, CA
Winding Commons - Carmichael, CA
Canyon Trails Senior Living - Canoga Park, CA
Simi Hills - Simi Valley, CA
The Camelot - Hemet, CA
CAI's Home Care - Tarzana, CA
Rancho Village - Palmdale, CA
Atria Hacienda - Palm Desert, CA
Sunrise At Canyon Crest - Riverside, CA
Pacifica Senior Living South Coast- Costa Mesa, CA
Rowntree Gardens - Stanton, CA
Cloisters of the Valley - San Diego, CA
Claremont Villas - Claremont, CA
Lantern Crest - Santee, CA
Prestige Assisted Living at Visalia - Visalia, CA
Sunrise of Petaluma - Petaluma, CA
Merrill Gardens at Huntington Beach - Huntington Beach, CA
Aid2Life Residential Care - Fresno, CA
Carlton Senior Living Downtown Pleasant Hill - Pleasant Hill, CA
Atria Grass Valley - Grass Valley, CA
Stonewall Gardens - Palm Springs, CA
Synergy Homecare - Corona, CA
Graceful Living Residential Care Facility for the Elderly, LLC - Chatsworth, CA
Oasis Senior Living - Reseda, CA
Laylor Care Home for the Elderly - Antioch, CA
24 Hr HomeCare - Santa Clara - Santa Clara, CA
El Molino Rose Villa - Pasadena, CA
Bella Vista Memory Care - Fresno, CA
Sycamore Glen Retirement - Chico, CA
Edward James Retirement Home - Escondido, CA
Atria El Camino Gardens - Carmichael, CA
Florie's Home - Simi Valley, CA
24 Hr HomeCare - Encino, CA
Atria Del Rey - Rancho Cucamonga, CA
Sunrise of Sacramento - Sacramento, CA
Atria Las Posas - Camarillo, CA
Valencia Commons - Rancho Cucamonga, CA
Atria Valley View - Walnut Creek, CA
Bixby Knolls Towers - Long Beach, CA
Madonna Gardens - Salinas, CA
Sunrise At La Costa - Carlsbad, CA
Villa Capri - Santa Rosa, CA
Oakmont of Whittier - Whittier, CA
Top-Rated Senior Care in Colorado
Meadowview of Greeley - Greeley, CO
Sunrise of Westminster - Westminster, CO
Palisades At Broadmoor Park - Colorado Springs, CO
Legacy House Elder Care on Lee - Littleton, CO
Griswold HomeCare of Colorado Springs - Monument, CO
Villa Pueblo Senior Living Community - Pueblo, CO
Summit Glen - Colorado Springs, CO
Peakview Assisted Living & Memory Care - Centennial, CO
Greeley Place - Greeley, CO
Highline Place - Littleton, CO
Juniper Village at Aurora - Aurora, CO
Atria Inn at Lakewood - Lakewood, CO
Garden Square at Westlake Assisted Living - Greeley, CO
MacKenzie Place - Colorado Springs - Colorado Springs, CO
Solstice Senior Living at Grand Valley - Grand Junction, CO
Garden Square of Greeley Memory Care - Greeley, CO
Seven Lakes Memory Care - Loveland, CO
Serenity House Assisted Living Applewood - Lakewood, CO
Rigden Farm Senior Living - Fort Collins, CO
Chelsea Place Memory Care - Aurora, CO
Lakeview Senior Living - Lakewood, CO
Grand Villa - Grand Junction, CO
Hillcrest of Loveland - Loveland, CO
Park Regency Thornton - Thornton, CO
Life Quality Homes #4 Loma Linda - Colorado Springs, CO
Cheyenne Place - Colorado Springs, CO
Atria Longmont - Longmont, CO
Sunrise at University Park - Colorado Springs, CO
Top-Rated Senior Care in Connecticut
Maplewood at Strawberry Hill - East Norwalk, CT
Maplewood at Stony Hill - Bethel, CT
Synergy Home Care - Danbury, CT
Connecticut Nursing Services - Brookfield, CT
Atria Stratford - Stratford, CT
Brightview on New Canaan - Norwalk, CT
Hoffman Summerwood Community - West Hartford, CT
Bridges by EPOCH at Trumbull - Trumbull, CT
Benchmark Senior Living at Ridgefield Crossings - Ridgefield, CT
The Hearth at Southbury - Southbury, CT
Atria Crossroads Place - Waterford, CT
The Village at Waveny - New Canaan, CT
Sunrise of Stamford - Stamford, CT
Atria Farmington - Farmington, CT
The Hearth at Glastonbury - Glastonbury, CT
Seven Stars Home Care Services, LLC - Fairfield, CT
A & B Homecare Solutions LLC - New Haven, CT
Top-Rated Senior Care in Delaware
Lorelton - Wilmington, DE
Sunrise Assisted Living of Wilmington - Wilmington, DE
Top-Rated Senior Care in Florida
The Woodlands - Cape Coral, FL
Gardens of North Port - North Port, FL
Home Helpers of the Treasure Coast - Port Saint Lucie, FL
Assisting Hands Fort Myers - Fort Myers, FL
ComForCare Home Care - Jacksonville, FL
Abbiejean Russell Care Ctr - Fort Pierce, FL
Loving Care ALF, Inc. - Tampa, FL
Life Care Companions - Boca Raton, FL
TLC Senior Home Care - Pompano Beach, FL
HarborChase of Tamarac - Tamarac, FL
A Better Solution of Punta Gorda - Punta Gorda, FL
FirstLight Home Care of Orlando - Oviedo, FL
Juniper Village at Naples - Naples, FL
Lake House Assisted Living - Largo, FL
Brookdale Pinecrest - Largo, FL
Sunrise of Jacksonville - Jacksonville, FL
Spring Hills Hunters Creek - Orlando, FL
Angels Senior Living at Rosewood House - Dunedin, FL
Always There Assisted Living - Citrus Springs, FL
Golden Age Senior Living Care LLC - Kissimmee, FL
Belvedere Commons of Sun City Center - Ruskin, FL
Options for Senior America - Brandon, FL
The Carlisle Palm Beach - Lantana, FL
The Villas at Sunset Bay - New Port Richey, FL
HarborChase of Palm Harbor - Palm Harbor, FL
Juniper Village at Cape Coral - Cape Coral, FL
HarborChase of Sarasota - Sarasota, FL
Meridian at Westwood - Fort Walton Beach, FL
American House Bonita Springs Senior Living - Bonita Springs, FL
Atria Park of Baypoint Village - Hudson, FL
Hidden Ranches Assisted Living - Miami, FL
The Sterling Aventura - Aventura, FL
Stratford Court at Boca Pointe - Boca Raton, FL
Senior Helpers Melbourne - Melbourne, FL
Swan at Lake Conway ALF - Belle Isle, FL
Spring Hills Home Care FL - Orlando, FL
Serenades by Sonata - Memory Care at West Orange - Winter Garden, FL
The Cloisters - Deland, FL
Inspired Living at Lakewood Ranch - Bradenton, FL
Spring Hills of Lake Mary - Lake Mary, FL
The Watermark at Trinity - Port Richey, FL
Savannah Court of Brandon - Brandon, FL
Barrington Terrace of Ft. Myers - Fort Myers, FL
Fountains of Hope - Sarasota, FL
Regal Park Assisted Living - Boynton Beach, FL
Pacifica Senior Living Ocala - Ocala, FL
Hibiscus Court - Melbourne, FL
The Atrium at Gainesville - Gainesville, FL
Savannah Grand of Sarasota - Sarasota, FL
Humphrey ALF - Tampa, FL
Hope View Gardens ALF Inc - West Palm Beach, FL
Seasons Belleair - Belleair, FL
Elder Services - Fort Lauderdale, FL
Inspired Living at Hidden Lakes - Bradenton, FL
Victoria Landing ALF - Melbourne, FL
The Palms at Ponte Vedra - Ponte Vedra Beach, FL
Memory Care of Naples - Naples, FL
Benton House of Clermont - Clermont, FL
House of Love Adult Care - Palm Coast, FL
Elmcroft of Timberlin Parc - Jacksonville, FL
HarborChase of North Collier - Naples, FL
Plantation Oaks Senior Living - High Springs, FL
The Windsor of Palm Coast - Palm Coast, FL
Marion Woods - Ocala, FL
The Tremont - Oviedo, FL
Barrington Terrace of Naples - Naples, FL
Elite Senior Home Care, LLC - Greenacres, FL
Cinnamon Cove - New Port Richey, FL
Consuelo's ALF - Tampa, FL
HarborChase of Naples - Naples, FL
The Venetian Gardens - Venice, FL
The Crossings at Riverview - Riverview, FL
Grace House of Tampa Inc. - Tampa, FL
The Cordova at Oakmonte Village - Lake Mary, FL
Home Instead Senior Care - Jacksonville, FL
Aston Gardens at Sun City Center - Sun City Center, FL
Right At Home Orlando - Orlando, FL
Serenades by Sonata - Memory Care at The Villages - The Villages, FL
American House Zephyrhills - Zephyrhills, FL
Savannah Court of Lakeland - Lakeland, FL
Grand Villa of Largo - Largo, FL
Right at Home Central Pinellas - Dunedin, FL
Atria Windsor Woods - Hudson, FL
The Windsor at Ortega - Jacksonville, FL
Santa Barbara BH - Miami, FL
Inspired Living at Tampa - Tampa, FL
Savannah Cottage of Lakeland - Lakeland, FL
University Pines - Pensacola, FL
The Princess Martha - Saint Petersburg, FL
Mangrove Bay - Jupiter, FL
The Springs at South Biscayne - North Port, FL
Bayshore Guest Home & Gardens - Nokomis, FL
The Hampton at Clearwater - Clearwater, FL
River Commons - Port Charlotte, FL
Grand Villa of Englewood - Englewood, FL
Top-Rated Senior Care in Georgia
Woodland Ridge Assisted Living - Smyrna, GA
Right at Home - Woodstock, GA
Southern Haven - Dalton, GA
St. Ives Memory Care - Johns Creek, GA
Options For Senior America - Atlanta, GA
Ashley Glen Senior Living - Peachtree City, GA
Camellia Place - Woodstock, GA
Park at Johns Creek - Suwanee, GA
Delmar Gardens of Smyrna - Smyrna, GA
Ashwood Meadows - Johns Creek, GA
Leafwood Residential Home Services - Riverdale, GA
Good Faith II - Snellville, GA
Eagles Landing Senior Living - Stockbridge, GA
Safe Haven at Brookhaven - Atlanta, GA
The Lodge at Bridgemill - Canton, GA
Morningside of Gainesville - Gainesville, GA
Delmar Gardens of Gwinnett - Lawrenceville, GA
Sunrise at Five Forks - Lilburn, GA
Bountiful Hills Senior Living - Commerce, GA
Cristian's House - Loganville, GA
Synergy Homecare of Metro Atlanta - Decatur, GA
Rockdale Healthcare Center - Conyers, GA
Holbrook of Lake Lanier - Gainesville, GA
Benton House of Sugar Hill - Sugar Hill, GA
Magnolia Manor on the Coast - Richmond Hill, GA
Windsor House Assisted Living - Canton, GA
Kimberly Personal Care Home - Dallas, GA
Gardens of Gainesville - Gainesville, GA
Greenwood Place - Marietta, GA
Kennesaw Place - Kennesaw, GA
Atria North Point - Alpharetta, GA
Daybreak Village Senior Living - Kennesaw, GA
4 Seasons Home Care - Marietta, GA
Belmont Village Johns Creek - Suwanee, GA
Merryvale Assisted Living - Oxford, GA
Home Care Matters - Flowery Branch, GA
Marsh's Edge - Saint Simons Island, GA
Habersham Retreat - Baldwin, GA
Savannah Commons - Savannah, GA
Orchard at Tucker - Tucker, GA
Miss Willie's Manor - Flowery Branch, GA
North Georgia Assisted Living and Memory Care - Dawsonville, GA
Synergy Home Care - Alpharetta, GA
Manchester Court - Conyers, GA
Gardens of Fayetteville - Fayetteville, GA
Atria Mableton - Austell, GA
Universal Private Home Care Inc - Columbus, GA
TRUMARK Home Care - Johns Creek, GA
Lambert Manor Care Home - Kennesaw, GA
Autumn Leaves of Towne Lake - Woodstock, GA
Sit Well Home Care Services - Marietta, GA
Creekside Pines - Dallas, GA
Dalton Place - Dalton, GA
Brighton Gardens of Dunwoody - Atlanta, GA
M.A.C. Care LLC - Lawrenceville, GA
Top-Rated Senior Care in Hawaii
All Care Hawaii, LLC - Honolulu, HI
Top-Rated Senior Care in Iowa
Meadowview Memory Care Village - Cedar Rapids, IA
Emery Place Assisted Living & Memory Care - Robins, IA
Country Meadow Place - Mason City, IA
Amelia Place - Council Bluffs, IA
Eagle Pointe Place - Dubuque, IA
Mallard Point - Cedar Falls, IA
Prairie Hills at Des Moines - Des Moines, IA
Silvercrest Garner - Davenport, IA
The Lodge of Ashworth, Inc. - West Des Moines, IA
Eiler Place - Clarinda, IA
SunnyBrook of Muscatine - Muscatine, IA
Sunset Park Place - Dubuque, IA
Bickford of Davenport - Davenport, IA
Country Manor - Davenport, IA
Illahee Hills - Urbandale, IA
Courtyard Estates at Hawthorne Crossing - Bondurant, IA
Edencrest at Green Meadows - Johnston, IA
Top-Rated Senior Care in Idaho
Chateau De Boise - Boise, ID
North Star - Coeur d'Alene, ID
Sunny Ridge - Nampa, ID
Salmon Creek - Boise, ID
Grace Assisted Living @ State Street - Boise, ID
Willow Park - Boise, ID
Alexander Place - Caldwell, ID
Honeysuckle Place - Hayden, ID
The Cottages of Boise - Boise, ID
Garnet Place - Garden City, ID
Top-Rated Senior Care in Illinois
Arden Courts of Elk Grove - Elk Grove Village, IL
Bickford of Bourbonnais - Bourbonnais, IL
Morningside of Shiloh - Belleville, IL
Riverside Assisted Living & Memory Care - Bourbonnais, IL
Central Baptist Village - Norridge, IL
Morningside of Sterling - Sterling, IL
Liberty Village - Elmhurst, IL
ComForCare Home Care - Wheaton, IL
Autumn Leaves of Glen Ellyn - Glen Ellyn, IL
All Help Health Services - Chicago, IL
Keystone Meadows & Keystone Gardens - Decatur, IL
Autumn Leaves of Bolingbrook - Bolingbrook, IL
Sunrise of Gurnee - Gurnee, IL
Senior Suites of Norwood Park - Chicago, IL
Lombard Place Assisted Living and Memory Care - Lombard, IL
Cordia Senior Residence - Westmont, IL
Fox Point - McHenry, IL
Sunrise of Flossmoor - Flossmoor, IL
Reflections Memory Care - Washington, IL
White Oaks at Heritage Woods of Huntley - Huntley, IL
Heritage Woods of Batavia - Batavia, IL
Sunrise of Highland Park - Highland Park, IL
Bridgeway of Bensenville - Bensenville, IL
Atria Park of Glen Ellyn - Glen Ellyn, IL
Senior Suites of Rainbow Beach - Chicago, IL
The Atrium of Belleville - Belleville, IL
The Breakers at Edgewater Beach - Chicago, IL
Morningside of Godfrey - Godfrey, IL
The Inn at Willow Falls - Crest Hill, IL
Harbor House - Wheeling, IL
ARIS at home, Inc. - Oak Park, IL
Eagle Ridge of Decatur - Decatur, IL
Arden Courts of Northbrook - Northbrook, IL
Silverado Highland Park - Highland Park, IL
Sunrise of Bloomingdale - Bloomingdale, IL
Chatham Villas of South Park - Chatham, IL
The Merion - Evanston, IL
Wesley Place Rehab - Chicago, IL
Arden Courts of Glen Ellyn - Glen Ellyn, IL
Marley Oaks - Mokena, IL
Home Helpers - Bloomingdale, IL
Generations Oakton Arms - Des Plaines, IL
Autumn Leaves of Crystal Lake - Crystal Lake, IL
Bickford of Tinley Park - Tinley Park, IL
Buckingham Pavilion - Chicago, IL
Presence Bethlehem Woods Retirement Community - La Grange Park, IL
Casa San Carlo - Northlake, IL
Senior Helpers of Chicago - Chicago, IL
Independence Village of Peoria - Peoria, IL
Belmont Village Glenview - Glenview, IL
Lexington of Lombard #1 - Lombard, IL
The Fountains at Godfrey - Godfrey, IL
Autumn Leaves of Oswego - Oswego, IL
Autumn Leaves of South Barrington - South Barrington, IL
Plum Landing Retirement Community - Aurora, IL
Senior Suites of Jefferson Park - Chicago, IL
Amber Ridge Memory Care - Moline, IL
Arden Courts of Geneva - Geneva, IL
Autumn Green at Midway Village - Chicago, IL
Sunrise of Naperville - Naperville, IL
Senior Suites of Garfield Ridge - Chicago, IL
Bickford of Moline - Moline, IL
Sunshine Gardens - Marion, IL
The Courts of Waterford - Aurora, IL
ComForCare Home Care Senior Services - Chicago S Lake - Buffalo Grove, IL
Primus Home Care - Mount Prospect, IL
Synergy Home Care of Dupage - Glen Ellyn, IL
Grosse Pointe Manor - Niles, IL
Presence Fox Knoll - Aurora, IL
Centennial Pointe Assisted Living & Arbors - Springfield, IL
Sunrise at Fountain Square - Lombard, IL
Sunrise of Palos Park - Palos Park, IL
Silverado Orchard Park - Morton Grove, IL
Aurora Supportive Living - Aurora, IL
Arden Courts - Palos Heights - Palos Heights, IL
American House Cedarlake - Plainfield, IL
Sunrise of Park Ridge - Park Ridge, IL
Top-Rated Senior Care in Indiana
Brentwood at Hobart - Hobart, IN
Atria Newburgh - Newburgh, IN
The Reserve at Hamilton Trace - Fishers, IN
Woodview - Fort Wayne, IN
Hamilton Place - Fort Wayne, IN
Christina Place - Franklin, IN
The Hearth at Juday Creek - Granger, IN
Bickford of Greenwood - Greenwood, IN
Lake City Place - Warsaw, IN
Whitlock Place - Crawfordsville, IN
Arbor Glen - Fort Wayne, IN
Georgetowne Place - Fort Wayne, IN
Park Place Senior Living - Fort Wayne, IN
Brentwood at Elkhart - Elkhart, IN
Bliss Place - Bedford, IN
Chandler Place - Kendallville, IN
Bennett Place - New Albany, IN
Forest Creek Commons - Indianapolis, IN
Brownsburg Meadows Assisted Living - Brownsburg, IN
Heritage Point - Mishawaka, IN
Emerald Place - Washington, IN
Tipton Place - Huntington, IN
Virginia Place - Merrillville, IN
Eastlake Terrace - Elkhart, IN
Worthington Place - Camby, IN
The Village at Arborwood - Granger, IN
Northridge Gracious Retirement Living - Fishers, IN
MILLER'S SENIOR LIVING COMM - Indianapolis, IN
Lynd Place - Muncie, IN
Carmel Senior Living - Carmel, IN
Meadow Brook Senior Living - Fishers, IN
Top-Rated Senior Care in Kansas
Stratford Commons - Overland Park, KS
Garden Grove Apartments - Manhattan, KS
Overland Park Place - Overland Park, KS
Healthcare Resort of Kansas City - Kansas City, KS
Sunrise of Lenexa - Lenexa, KS
Vintage Park at Waterfront - Wichita, KS
Park Meadows Senior Living - Overland Park, KS
Garden Villas of Lenexa - Lenexa, KS
Thornton Place - Topeka, KS
Royal Terrace Nursing & Rehabilitation Center - Olathe, KS
Bickford at Mission Springs - Mission, KS
Arbor Court Retirement Community at Alvamar - Lawrence, KS
The Heritage of Overland Park - Overland Park, KS
Shawnee Hills Senior Living - Shawnee, KS
Greenwood Terrace - Lenexa, KS
Kansas Masonic Home - Wichita, KS
Top-Rated Senior Care in Kentucky
Highlands Place - Somerset, KY
Ivy Knoll A Caring Senior Community - Covington, KY
Beehive Home of Smyrna - Louisville, KY
Rose Anna Hughes Home - Louisville, KY
Atria Stony Brook - Louisville, KY
Hartland Hills - Lexington, KY
The Lantern at Morning Pointe of Lexington - Lexington, KY
Bridgepointe at Ashgrove Woods - Nicholasville, KY
Atria Springdale - Louisville, KY
Morning Pointe of Louisville - Louisville, KY
Wesley Manor Retirement Community - Louisville, KY
Panorama Senior Citizen Apt - Covington, KY
Atria St. Matthews - Louisville, KY
Atria Highland Crossing - Covington, KY
Symphony at Valley Farms - Louisville, KY
Top-Rated Senior Care in Louisiana
Landing At Behrman Place - New Orleans, LA
Live Oak Village of Slidell - Slidell, LA
The Claiborne at Thibodaux - Thibodaux, LA
The Verandah at Graywood - Lake Charles, LA
Savannah Grand of West Monroe - West Monroe, LA
Park Provence - Slidell, LA
Russ Place - Ruston, LA
Top-Rated Senior Care in Massachusetts
Sunrise of Burlington - Burlington, MA
Thirwood Place - South Yarmouth, MA
East Village Place - East Longmeadow, MA
Carriage House at Lee's Farm - Wayland, MA
All American Assisted Living at Raynham - Raynham, MA
Armbrook Village - Westfield, MA
Cottage Caregivers - Hingham, MA
Ezra Home Care - Newton, MA
Watertown Health Center - Watertown, MA
Kindred Living at Needham Heights - Needham, MA
The Atrium at Cardinal Drive - Agawam, MA
The Highlands Gracious Retirement - Westborough, MA
Bluebird Estates - East Longmeadow, MA
Methuen Village - Methuen, MA
Atria Woodbriar - Falmouth, MA
Whitcomb House - Milford, MA
Rogerson House - Jamaica Plain, MA
The Residence at Watertown Square - Watertown, MA
Linda Manor Assisted Living - Leeds, MA
Benchmark Senior Living at Plymouth Crossings - Plymouth, MA
Cornerstone at Milford - Milford, MA
Benchmark Senior Living at Billerica Crossings - Billerica, MA
Whitney Place and Whitney Suites - Westborough, MA
The Residence at Five Corners - North Easton, MA
Care Resolutions Inc - Medfield, MA
Grace Morgan House - Methuen, MA
Park Avenue Health Center - Arlington, MA
Cornerstone at Canton - Canton, MA
Putnam Farm at Danvers - Danvers, MA
Brightview Arlington - Arlington, MA
Braemoor Health Center - Brockton, MA
Top-Rated Senior Care in Maryland
Sunrise of Frederick - Frederick, MD
Options For Senior America - Annapolis, MD
Options For Senior America - La Plata, MD
Brightview Catonsville - Catonsville, MD
Somerford House & Place Frederick - Frederick, MD
Gardens of Annapolis - Annapolis, MD
Options For Senior America - Bel Air, MD
HeartLands Assisted Living at Severna Park - Severna Park, MD
Hart Heritage Estates Assisted Living of Forest - Forest Hill, MD
Tranquillity at Fredericktowne - Frederick, MD
2nd Family - Eldersburg, MD
CR Care of Clarksville - Clarksville, MD
Absolute Care Services LLC - Rosedale, MD
Pat's Golden Girls - Randallstown, MD
ALLCare Associates Home Care - Fulton - Fulton, MD
Victory Court Senior Apartments - Rockville, MD
Sunrise of Pikesville - Pikesville, MD
Morningside House of Friendship - Hanover, MD
Options for Senior America - Gaithersburg, MD
Shanti Home III - Laurel, MD
Comfort Home Care - Rockville, MD
Park View at Rosedale - Rosedale, MD
Victoria Park at Edgewater - Edgewater, MD
NE'VILLE'S LLC - Bowie, MD
Sunrise of Rockville - Rockville, MD
Delmar Villa - Delmar, MD
Brightview White Marsh - Nottingham, MD
Atria Salisbury - Salisbury, MD
Sunrise at Montgomery Village - Gaithersburg, MD
Brightview Rolling Hills - Catonsville, MD
Evergreen Senior Apartments - Essex, MD
Creekside - Frederick, MD
Willow Manor at Clopper's Mill - Germantown, MD
Top-Rated Senior Care in Maine
Huntington Common - Kennebunk, ME
Scarborough Terrace - Scarborough, ME
Atria Scarborough - Scarborough, ME
Bay Square at Yarmouth - Yarmouth, ME
Birch Bay Retirement Village - Bar Harbor, ME
Top-Rated Senior Care in Michigan
Campbell Personal Care Home - Leonard, MI
D & P Special Needs Center - Farmington Hills, MI
Genesis Senior Living 3 - Warren, MI
Westhaven Manor - Westland, MI
American House Sterling Meadows Senior Living - Sterling Heights, MI
Brookdale Bay City - Bay City, MI
Elmhaven Manor - Pontiac, MI
Sunrise of Troy - Troy, MI
American House Sterling Heights Senior Living - Sterling Heights, MI
Magnolia by the Lakes - Keego Harbor, MI
New Horizons AFC LLC - Clinton Township, MI
American House Troy Senior Living - Troy, MI
Brookhaven Manor - Ann Arbor, MI
Glen Eagle - Traverse City, MI
Sunrise at North Farmington Hills - Farmington Hills, MI
American House Lakeside Senior Living - Clinton Township, MI
Grandhaven Manor - Lansing, MI
Kayd's Elderly Care Home - Howell, MI
Independence Village of Waterstone - Oxford, MI
Beechwood Living Center - Taylor, MI
Courtyard Manor of Swartz Creek - Swartz Creek, MI
Genesis Senior Living 2 - Troy, MI
American House Jenison - Jenison, MI
StoryPoint Rockford - Rockford, MI
Wescourt - Saginaw, MI
Golden Heart of Rochester Hills - Troy, MI
Marian Oakland - Farmington Hills, MI
American House Milford Senior Living - Milford, MI
Atria Shorehaven - Sterling Heights, MI
Arden Courts of Bingham Farms - Bingham Farms, MI
Villas of Shelby - Shelby Township, MI
Maple Heights Retirement Community - Allen Park, MI
Lahser Village Senior Living - Southfield, MI
Sunrise on Vernier - Grosse Pointe Woods, MI
Genesis Senior Living - Troy, MI
Oakhaven Manor - Howell, MI
All Seasons Rochester Hills - Rochester Hills, MI
Peaceful Manor - Farmington Hills, MI
Pine Ridge of Garfield Senior Living - Clinton Township, MI
White Oaks Assisted Living and Dementia Care - Lawton, MI
Dawn's Center For Seniors - Clinton Township, MI
Park Place - Warren, MI
Town Village Sterling Heights - Sterling Heights, MI
Angel Home Care Services, Inc - Allen Park, MI
Genesis Senior Home - Sterling Heights, MI
The Bellaire Senior Living - Riverview, MI
Genesee Gardens - Flint, MI
Genesis Senior Living Warren - Warren, MI
Atria Park of Ann Arbor - Ann Arbor, MI
Autumn Ridge of Clarkston - Clarkston, MI
Pine Ridge of Plumbrook Retirement Community - Sterling Heights, MI
Independence Village of Frankenmuth - Frankenmuth, MI
Top-Rated Senior Care in Minnesota
Meadow Ridge Senior Living - Golden Valley, MN
White Pine Senior Living - Blaine - Blaine, MN
New Perspective Senior Living | Eagan - Eagan, MN
Summit Place Senior Campus - Eden Prairie, MN
Synergy Home Care - Burnsville, MN
Kingsway Retirement Living - Belle Plaine, MN
Heathers Estates - Crystal, MN
Synergy Home Care - Roseville, MN
The Wellstead of Rogers & Diamondcrest - Rogers, MN
ComForCare Home Care Senior Services - Minnetonka, MN
White Pine Senior Living-Mendota Heights - Mendota Heights, MN
Memory Care Cottages of White Bear - White Bear Lake, MN
Sunrise of Edina - Edina, MN
Margaret Place - Coon Rapids, MN
RIVER OAKS OF ANOKA - Anoka, MN
RosePointe - Roseville, MN
The Kenwood - Minneapolis, MN
Top-Rated Senior Care in Missouri
Garden Villas - Town and Country, MO
Garden Villas South - Saint Louis, MO
The Gardens at Northgate Village - North Kansas City, MO
Delmar Gardens of Chesterfield - Chesterfield, MO
Ravenwood & Arbors at Ravenwood - Springfield, MO
Dougherty Ferry Assisted Living and Memory Care - Valley Park, MO
Sunrise on Clayton - Richmond Heights, MO
Creve Coeur Assisted Living & Memory Care - Creve Coeur, MO
The Cambridge - Springfield, MO
Oak Pointe of Kearney - Kearney, MO
Garden Villas of O'Fallon - O'Fallon, MO
Fairwinds - River's Edge - Saint Charles, MO
Park Place Senior Living at Winghaven - O'Fallon, MO
Crestview Senior Living - Crestwood, MO
Tesson Heights - Saint Louis, MO
St. Andrew's Assisted Living of Bridgeton - Bridgeton, MO
The Springs at Independence - Independence, MO
Bavaria Memory Care at the St. Louis Altenheim - Saint Louis, MO
The Montclair - Springfield, MO
Westview at Ellisville Assisted Living & Memory Care - Ellisville, MO
Solstice Senior Living at Lee's Summit - Lee's Summit, MO
Garden Village - Kansas City, MO
Garden Villas North - Florissant, MO
Twin Oaks at Heritage Pointe - Wentzville, MO
Home Care Assistance of St. Louis - Saint Louis, MO
Mill Creek Village and The Arbors & Cottages at Mill Creek Village (Open May 2016) - Columbia, MO
Addington Place of Lee's Summit - Lee's Summit, MO
The Homestead at Hickory View Retirement Community - Washington, MO
Sugar Creek & Arbors at Sugar Creek - Troy, MO
SummitView Terrace - Kansas City, MO
Fremont Senior Living- Springfield, MO
Desmet Retirement Community - Florissant, MO
The Fountains At Greenbriar - Independence, MO
Top-Rated Senior Care in Mississippi
Olive Grove Terrace & Arbors at Olive Grove - Olive Branch, MS
The Waterford on Highland Colony - Ridgeland, MS
Chateau Ridgeland - Ridgeland, MS
The Gardens - Ocean Springs, MS
Top-Rated Senior Care in Montana
Grizzly Peak - Missoula, MT
Hunters Pointe - Helena, MT
Aspen View - Billings, MT
Top-Rated Senior Care in North Carolina
Peak Resources - Cherryville - Cherryville, NC
Atria MerryWood - Charlotte, NC
Atria Southpoint Walk - Durham, NC
Lake Shore Commons - Wilmington, NC
Cedar Ridge - Burlington, NC
Capital Oaks Retirement Resort - Raleigh, NC
Bartlett Reserve - Durham, NC
Elmcroft of Little Avenue - Charlotte, NC
Sunrise of Cary - Cary, NC
Chatham Ridge Assisted Living - Chapel Hill, NC
Stoneridge Gracious Retirement Living - Cary, NC
Bright Horizon Senior Care - Raleigh, NC
Cambridge Village of Wilmington - Wilmington, NC
Forsyth Court - Winston-Salem, NC
Brighton Gardens of Greensboro - Greensboro, NC
Pacifica Senior Living Heritage Hills  - Hendersonville, NC
Marjorie Mc Cune Memorial Ctr - Black Mountain, NC
Bella Vista - Asheville, NC
Cambridge Village of Apex - Apex, NC
Affordable Family Care Services, Inc - Raleigh, NC
Whispering Pines - Raleigh, NC
Right at Home of Wake County - Raleigh, NC
Avendelle Assisted Living Fuquay - Fuquay Varina, NC
Sunrise on Providence - Charlotte, NC
Carolina Estates - Greensboro, NC
Preston House - Charlotte, NC
The Woods at Holly Tree - Wilmington, NC
Top-Rated Senior Care in Nebraska
Touching Hearts At Home - Omaha, NE
Bickford of Lincoln - Lincoln, NE
Ridgewood - Bennington, NE
Gramercy Hill - Lincoln, NE
High Plains Alzheimer's Special Care Center - Lincoln, NE
Savannah Pines Retirement Resort - Lincoln, NE
Aksarben Village Senior Living Community - Omaha, NE
Morton Place - Nebraska City, NE
Brentwood Estates - Lincoln, NE
Rolling Hills Ranch - Omaha, NE
Top-Rated Senior Care in New Hampshire
Birch Heights - Derry, NH
Rosewood Manor - Rochester, NH
Pleasant View Retirement - Concord, NH
Carriage Hill Assisted Living - Madbury, NH
Langdon Place of Nashua - Nashua, NH
Top-Rated Senior Care in New Jersey
iHeart Home Care - Hackensack, NJ
Comfort Keepers - Flemington, NJ
Somers Place - Egg Harbor Township, NJ
Regency Jewish Heritage Post-Acute Rehabilitation and Nursing Center - Somerset, NJ
Regency Grande Nursing and Post-acute Rehabilitation Center - Dover, NJ
Sunrise of Paramus - Paramus, NJ
WoodView Estates Assisted Living - Mays Landing, NJ
Fox Trail Memory Care Living at Montville - Montville, NJ
Hearthstone Estates - Lakewood Township, NJ
Sunrise of Jackson - Jackson, NJ
Sunrise of Randolph - Randolph, NJ
Home Care Assistance - Plainsboro Township, NJ
Regency Gardens Nursing and Post-acute Rehabilitation Center - Wayne, NJ
Lindsay Place - Pennsville Township, NJ
Artis Senior Living of Evesham - Evesham, NJ
Little Nursing Home - Montclair, NJ
Assisting Hands of Essex, South Morris, and Passaic Counties - Livingston, NJ
Cardinal Village - Sewell, NJ
Spring Hills Morristown - Morristown, NJ
Baker Place - Vineland, NJ
Fox Trail Memory Care Living at Hillsdale East - Hillsdale, NJ
Brightview Randolph - Randolph, NJ
Spring Hills Cherry Hill - Cherry Hill, NJ
Sunrise of Morris Plains - Morris Plains, NJ
Colonial Manor at Panther Valley - Hackettstown, NJ
Masonic Village at Burlington - Burlington, NJ
Granville Place - Burlington, NJ
Regency Park Nursing and Post-acute Rehabilitation Center- Hazlet, NJ
Spring Hills Somerset - Somerset, NJ
Atria Cranford - Cranford, NJ
Top-Rated Senior Care in New Mexico
Haciendas at Grace Village - Las Cruces, NM
Fairwinds - Rio Rancho - Rio Rancho, NM
1st Premier Home Care - Albuquerque, NM
Elmcroft of Quintessence - Albuquerque, NM
The Woodmark at Uptown - Albuquerque, NM
Companion Care - Albuquerque, NM
Top-Rated Senior Care in Nevada
Sterling Ridge - Las Vegas, NV
Heritage Springs - Las Vegas, NV
Sky Peaks - Reno, NV
Siena Hills - Henderson, NV
Lakeside Manor - Reno, NV
Atria Sutton - Las Vegas, NV
Atria Summit Ridge - Reno, NV
Top-Rated Senior Care in New York
Atria Glen Cove - Glen Cove, NY
Sunrise of West Babylon - West Babylon, NY
Keepsake Village at Greenpoint - Liverpool, NY
Springvale Apartments - Croton-on-Hudson, NY
Atria Briarcliff Manor - Briarcliff Manor, NY
Somerset Gardens Senior Living - Plainview, NY
Sunrise at Sheepshead Bay - Brooklyn, NY
Atria Kew Gardens - Richmond Hill, NY
Baywinde Senior Living - Webster, NY
Christian Fellowship House - Syosset, NY
Sunrise of Plainview - Plainview, NY
Bristol Village, Inc. - Clarence Center, NY
The Bristal Assisted Living at East Northport - East Northport, NY
The Bristal at Lake Grove - Lake Grove, NY
Harbor House - Oyster Bay, NY
Peregrine Senior Living at Orchard Park - Orchard Park, NY
Walden Place - Cortland, NY
Atria Greece - Rochester, NY
Elderwood Assisted Living at West Seneca - West Seneca, NY
Maple Downs - Fayetteville, NY
Amsterdam at Harborside - Port Washington, NY
Drum Hill Senior Living - Peekskill, NY
Sunrise of Mill Basin - Brooklyn, NY
Parkrose Estates Retirement Community - Liverpool, NY
Appleridge Senior Living - Horseheads, NY
The Manor at Woodside - Poughkeepsie, NY
Brightview Tarrytown - Tarrytown, NY
The Hearth at Castle Gardens - Vestal, NY
Atria Lynbrook - Lynbrook, NY
The Hearth on James - Syracuse, NY
Atria Tanglewood - Lynbrook, NY
Bristolwood Senior Living Community - Buffalo, NY
Dominican Village Inc - Amityville, NY
The Bristal at North Hills - Manhasset, NY
The Bristal at Westbury- Westbury, NY
Hometeam - New York, NY
The Bristal at Lynbrook - Lynbrook, NY
Heather Heights of Pittsford - Pittsford, NY
Promenade at Blue Hill - Pearl River, NY
Meadows at Glenwyck - Glenville, NY
Fleming Point - Rochester, NY
Solstice Senior Living at East Amherst - East Amherst, NY
Braemar Living at Wallkill - Middletown, NY
Top-Rated Senior Care in Ohio
Brewster Parke - Brewster, OH
Sunrise at Parma - Cleveland, OH
The Inn at University Village - Massillon, OH
Pinebrook - Milford, OH
VILLA AT THE LAKE, A RANDALL RESIDENCE - Conneaut, OH
The Worthington - Gahanna, OH
Hilltop Village - Euclid, OH
The Geraldine Schottenstein Cottage - Columbus, OH
Home Helpers and Direct Link Ottawa - Ottawa, OH
Always There Home Care - Columbus, OH
Senior Helpers - Dayton, OH
Home State Healthcare LLC - Troy, OH
Parker Place - Mentor, OH
GRACE BRETHREN VILLAGE - Englewood, OH
Brighton Gardens of Westlake - Westlake, OH
Kingsbury Place - Defiance, OH
Our Family Home at Longview Drive - Dublin, OH
Options For Senior America - Cleveland - Independence, OH
Personal Senior Care Homes - West Chester, OH
The Waterford at Levis Commons - Perrysburg, OH
Allay Senior Care - Lisbon, OH
Wesleyan Village - Elyria, OH
Sunrise of Cuyahoga Falls - Cuyahoga Falls, OH
ComForCare Home Care Senior Services - Reynoldsburg, OH
One Lincoln Park - Kettering, OH
Spring Hills Middletown - Franklin, OH
Copley Place - Copley, OH
Otterbein Skilled Nursing & Rehab Small House Neighborhood - Middletown, OH
Atha Assisted Living - Dayton, OH
GOVERNOR'S POINTE - Mentor, OH
Amber Park Assisted Living - Pickerington, OH
The Waterford at Fairfield - Fairfield, OH
Alois - Cincinnati, OH
Seasons Courtyard - Cincinnati, OH
Spring Hills Singing Woods - Dayton, OH
Vista Springs Macedonia - Macedonia, OH
Independence Village of Aurora - Aurora, OH
DeWolfe Place - Marion, OH
Alexis Gardens - Toledo, OH
Our Family Home at Worthington Galena Road - Worthington, OH
Stone Oak Retirement Resort - Hilliard, OH
Genesis Village - Toledo, OH
The Inn At Northwood Village - Dover, OH
The Woodlands of Shaker Heights - Cleveland, OH
Oakley Place - Greenville, OH
Our Family Home at Northigh Drive - Worthington, OH
Our Family Home at Miami Hills - Cincinnati, OH
Our Family Home at Bramblewood - Montgomery, OH
Creekside at the Village - Columbus, OH
Middleton Senior Living - Granville, OH - Granville, OH
Barrington of West Chester - West Chester, OH
Top-Rated Senior Care in Oklahoma
Arbor House Reminisce, LLC - Norman, OK
Lionwood - Oklahoma City, OK
Town Village - Oklahoma City, OK
Autumn Leaves of Edmond - Edmond, OK
Town Village Tulsa - Tulsa, OK
Canoe Brook Assisted Living - Catoosa, OK
Arbor House Assisted Living - Norman, OK
Autumn Leaves of Southwest Oklahoma City - Oklahoma City, OK
University Village Retirement Community - Tulsa, OK
Lyndale Edmond - Edmond, OK
Top-Rated Senior Care in Ontario
Plymouth Cordage Retirement Community - Welland, ON
The Court at Barrhaven - Ottawa, ON
Amica at Whitby - Whitby, ON
Amica at London - London, ON
Right at Home Canada - Burlington, ON
The Court at Brooklin - Whitby, ON
St. Charles Village - Welland, ON
The Court at Rushdale - Hamilton, ON
The Court at Pringle Creek - Whitby, ON
Credit River Retirement Residence - Streetsville, ON
St. Bernard's Residence - Toronto, ON
Amica at City Centre - Mississauga, ON
Greenway Retirement Village - Brampton, ON
Home Care Assistance - Toronto - Toronto, ON
Sherbrooke Heights - Peterborough, ON
Stamford Estates - Niagara Falls, ON
Atrium at Kew Beach - Toronto, ON
Top-Rated Senior Care in Oregon
Angels Place Adult Foster Care - Gresham, OR
Farmington Square at Medford - Medford, OR
Courtyard Fountains - Gresham, OR
Chinook Place - Madras, OR
Cherry Park Plaza - Troutdale, OR
Sheldon Park - Eugene, OR
Barnett Woods - Medford, OR
Russellville Park - Portland, OR
Cherry Blossom Cottage - Portland, OR
Garden Way Retirement Community - Eugene, OR
Weatherly Inn - Medford, OR
Hawthorne Gardens Senior Living - Portland, OR
Creekside Village - Beaverton, OR
Good Samaritan Society-Fairlawn Village - Gresham, OR
Suncrest Place - Talent, OR
Flagstone Senior Living - The Dalles, OR
Farmington Square at Eugene - Eugene, OR
Madrona Hills - Salem, OR
Garden Valley - Roseburg, OR
Monterey Court Alzheimer's Care - Happy Valley, OR
Princeton Village Assisted Living Community - Clackamas, OR
The Oaks at Lebanon - Lebanon, OR
Rosewood Specialty Care - Hillsboro, OR
Elite Care at Oatfield Estates - Milwaukie, OR
Regent Court - Corvallis, OR
Parkhurst Place - Hood River, OR
Stoneybrook Lodge - Corvallis, OR
Oak Park Assisted Living Community - Roseburg, OR
Sweetbriar Villa - Springfield, OR
Rock Creek - Hillsboro, OR
Parkrose Chateau - Portland, OR
Top-Rated Senior Care in Pennsylvania
Home Instead Senior Care - West Chester, PA
Spring Mill Senior Living - Phoenixville, PA
Masonic Village at Sewickley - Sewickley, PA
Masonic Village at Elizabethtown - Elizabethtown, PA
Sunrise Senior Living of Lower Makefield - Yardley, PA
The Bridges at Bent Creek - Mechanicsburg, PA
Homewatch Caregivers of North Hills Pittsburgh - Pittsburgh, PA
Clen-Moore Place - New Castle, PA
Traditions of Hanover - Bethlehem, PA
Arbour Square of Harleysville - Harleysville, PA
Highland Park Senior Living - Wilkes-Barre Township, PA
North Penn Manor - Wilkes-Barre, PA
The Bridges at Warwick - Jamison, PA
Elmcroft of Lebanon - Lebanon, PA
The Birches at Arbour Square - Harleysville, PA
Sunrise Senior Living of Granite Run - Media, PA
Elmcroft of Chippewa - Beaver Falls, PA
Juniper Village at Mount Joy - Mount Joy, PA
Penn Home - Philadelphia, PA
Liza's House - Danielsville, PA
Atria South Hills - Pittsburgh, PA
BrightStar Care of SW Pittsburgh - Pittsburgh, PA
Sunrise Senior Living of Lafayette Hill - Lafayette Hill, PA
Elmcroft of State College - State College, PA
Juniper Village at Forest Hills - Pittsburgh, PA
Sunrise Senior Living of Presque Isle Bay - Erie, PA
Elmcroft of Loyalsock - Montoursville, PA
Comfort Care LLC. - Fairfield, PA
Harbour Assisted Living/Monroeville - Monroeville, PA
Belle Reve Senior Living Community - Milford, PA
Masonic Village at Lafayette Hill - Lafayette Hill, PA
Juniper Village at Brookline Senior Living - State College, PA
Chestnut Knoll - Boyertown, PA
Bethel Park - Bethel Park, PA
Luther Ridge at Seiders Hill - Pottsville, PA
GoldenCare - Narberth, PA
Arden Courts of Old Orchard - Easton, PA
Spring Village at Pocono - East Stroudsburg, PA
Traditions of Hershey - Palmyra, PA
The Haven at Springwood - York, PA
Elmcroft of Dillsburg - Dillsburg, PA
Juniper Village at Meadville - Meadville, PA
Whispering Oaks - Hermitage, PA
Independence Court of Monroeville - Monroeville, PA
Rosemont – A Presby's Inspired Life Community - Bryn Mawr, PA
The Solana Doylestown - Warrington, PA
Top-Rated Senior Care in Rhode Island
Highlands on the East Side - Providence, RI
The Village at Waterman Lake - Greenville, RI
Brightview Commons - Wakefield, RI
Atria Lincoln Place - Lincoln, RI
Top-Rated Senior Care in South Carolina
Somerby of Mount Pleasant - Mount Pleasant, SC
Senior Helpers - Anderson, SC
Thrive at Greer - Greer, SC
Hope Arbor of Murrells Inlet - Murrells Inlet, SC
Home Care Assistance of the Grand Strand - Pawleys Island, SC
The Carolinian - Florence, SC
Helena Place - Port Royal, SC
Forest Pines - Columbia, SC
Eagle Crest - Myrtle Beach, SC
Ashley Park - Charleston, SC
The Waterford at Dillon Pointe - Spartanburg, SC
Westminster - Greenville, SC
Haywood Estates - Greenville, SC
Summit Place - Anderson, SC
Summerville Estates - Summerville, SC
Deepwood Estates - Lexington, SC
Wellmore of Tega Cay - Tega Cay, SC
Oakleaf Village of Lexington - Lexington, SC
Savannah Place - Charleston, SC
Hammond Place - North Augusta, SC
Top-Rated Senior Care in South Dakota
Washington Crossing - Sioux Falls, SD
The Inn on Westport - Sioux Falls, SD
Top-Rated Senior Care in Saskatchewan
Marian Chateau - Regina, SK
Primrose Chateau - Saskatoon, SK
Top-Rated Senior Care in Tennessee
Providence Place Assisted Living - Mount Juliet, TN
Home Instead Senior Care - Mount Juliet, TN
Grace Place - Hendersonville, TN
Right at Home- Memphis East - Memphis, TN
Quail Ridge - Bartlett - Bartlett, TN
Senior Care Management Solutions - Memphis, TN
Morning Pointe of Chattanooga at Shallowford - Chattanooga, TN
Preferred Care at Home of North Davidson and Sumner Counties - Hendersonville, TN
Town Village Audubon Park - Memphis, TN
The Parkview - Memphis, TN
McKendree Village - Hermitage, TN
The Hearth at Hendersonville - Hendersonville, TN
Helping Hands Support Center - Hermitage, TN
Robinwood Retirement Resort - Bartlett, TN
Dominion Senior Living of Sevierville - Sevierville, TN
Alexander Guest House - Oak Ridge, TN
The Waterford in Smyrna - Smyrna, TN
Feels Like Home Senior Lifestyle Residences - Memphis, TN
Vantage Pointe Village - Ashland City, TN
NorthCliff Assisted Living - Lexington, TN
The Lantern at Morning Pointe of Chattanooga - Chattanooga, TN
Atria Weston Place - Knoxville, TN
The Lantern of Lenoir City - Lenoir City, TN
Home Instead Senior Care - Memphis, TN
Windlands East - Madison, TN
Southern Manor Living Center - Lebanon, TN
Oakwood Senior Living - Knoxville, TN
Top-Rated Senior Care in Texas
Good Life Senior Living-Ft. Worth - Fort Worth, TX
Midtowne Assisted Living and Memory Care - Midlothian, TX
Garden Estates of Temple - Temple, TX
Wood Glen Court - Spring, TX
Home Instead Senior Care - Highland Village, TX
Evergreen Cottages - Katy, TX
Mallard Home Care - Pflugerville, TX
Autumn Leaves of the Woodlands - The Woodlands, TX
Serenity Senior Living - Pflugerville, TX
Elmcroft of Wharton - Wharton, TX
North Brook Place - McKinney, TX
Wildflower Place - Temple, TX
Adante Independent Living - San Antonio, TX
Oxford Glen - Grand Prairie, TX
Atria Willow Park - Tyler, TX
Windsor Senior Living - Dallas, TX
Cowhorn Creek Estates - Texarkana, TX
Watercrest at Sugar Land - Sugar Land, TX
Villa of Corpus Christi South - Corpus Christi, TX
Bluebird Homecare- Fort Worth, TX
Villa de San Antonio - San Antonio, TX
Sunrise of Cinco Ranch - Katy, TX
Isle at Watercrest- Alamo Ranch - San Antonio, TX
Raider Ranch - Lubbock, TX
The Gardens at Brook Ridge - Pharr, TX
Heritage Place - Burleson, TX
Friendly Faces Senior Care - Houston, TX
Satori Senior Care - Arlington, TX
Wyoming Springs Assisted Living - Round Rock, TX
Pioneer Ridge - McKinney, TX
The Conservatory at Keller Town Center - Keller, TX
Sonoma House Assisted Living LLC - Carrollton, TX
The Village at Stonebridge - McKinney, TX
Sundance at Brushy Creek - Cedar Park, TX
Cypress Assisted Living, LLC - Cypress, TX
Legacy at Crystal Falls - Leander, TX
Synergy Homecare - Houston, TX
Autumn Leaves of Cy-Fair - Houston, TX
Poet's Walk Round Rock - Round Rock, TX
Bradfield Place - Mesquite, TX
Redbud Place - McKinney, TX
Stoney Brook of Copperas Cove - Copperas Cove, TX
Arden Park Assisted Living - San Antonio, TX
The Waterford at Mesquite - Mesquite, TX
The Village at Valley Creek - Denton, TX
Landing at Watermere - Southlake, TX
Silver Creek Garland - Garland, TX
The Village at Mapleshade - Plano, TX
The Oaks at Flower Mound - Flower Mound, TX
Legacy at Forest Ridge - Schertz, TX
MacArthur Hills - Irving, TX
Brook Ridge - Pharr, TX
A Country Place Residential Care Home - Sugar Land, TX
Manchester Place White Rock Lake - Dallas, TX
Autumn Leaves of Cinco Ranch - Katy, TX
A Caring Home with Friends - Carrollton, TX
Grand Brook Memory Care of Garland - Garland, TX
Advocates for the Independent - Houston, TX
ADL Assisted Living - Baytown, TX
Jack's Place - Euless, TX
Grace Elderly Care Home - Spring, TX
Arbor House of Lewisville - Lewisville, TX
Denton Creek Senior Living - Roanoke, TX
Royal Estates of Wichita Falls - Wichita Falls, TX
Autumn Leaves of Memorial City - Houston, TX
Season's Alzheimer's and Assisted Care - San Antonio, TX
Integrity Senior Care - San Antonio, TX
Miramar Home Care - Converse, TX
The Orchard Assisted Living - Katy, TX
Paris Chalet Senior Living - Paris, TX
Parsons House Frisco - Frisco, TX
Heritage Place Assisted Living & Memory Care - Burleson, TX
Lakewell Place - Mineral Wells, TX
University Village - Round Rock, TX
Colonial Village Retirement - Longview, TX
HarborChase of Plano - Plano, TX
Pecan Ridge - Austin, TX
Carriage Inn at Huntsville - Huntsville, TX
Autumn Leaves of Stone Oak - San Antonio, TX
Autumn Leaves of Rockwall - Rockwall, TX
Parsons House Austin - Austin, TX
Dignity Senior Care Homes - San Antonio, TX
CHRISTUS St. Joseph Village - Coppell, TX
Always Home at Saddlehorn - Katy, TX
Cedar Bluff Assisted Living - Mansfield, TX
Emerald Oaks Retirement Resort Community - San Antonio, TX
Elmcroft of the Mainland - Texas City, TX
Independence Hill Retirement Community - San Antonio, TX
The Waterford at Fort Worth - Fort Worth, TX
Avalon Memory Care - Fort Worth - Fort Worth, TX
Preston Place - Plano, TX
Liberty Heights - Rockwall, TX
Sodalis-San Marcos - San Marcos, TX
The Conservatory at Alden Bridge - The Woodlands, TX
Silverado Cedar Park - Cedar Park, TX
Lakestone Terrace - Granbury, TX
Rio Terra - New Braunfels, TX
Stone Brook Assisted Living and Memory Care - Denison, TX
Pecan Point - Sherman, TX
Encore Memory Care Day Stay - Plano, TX
Sunrise of Fort Worth - Fort Worth, TX
Elmcroft of Cy-Fair - Houston, TX
Churchill Estates at Lake Highlands - Dallas, TX
Ashwood Court - North Richland Hills, TX
Strake Place - Conroe, TX
Preston Place - Sherman, TX
Mercer Place - Rowlett, TX
Woodcrest Home for Senior Citizens - Live Oak, TX
Renaissance-Sherman - Sherman, TX
Dogwood Estates - Denton, TX
Courtyards at Lake Granbury - Granbury, TX
Meadowstone Place - Dallas, TX
The Wellington at North Richland Hills - North Richland Hills, TX
The Inn at Los Patios - San Antonio, TX
Elmcroft of Austin - Austin, TX
Optimum Personal Care - Missouri City, TX
Silverado Onion Creek - Austin, TX
Family Tree In-Home Care - Houston, TX
Lakeshore Estates - Waco, TX
Fox Run Estates - Arlington, TX
Elmcroft of Cottonwood - Temple, TX
Madison Estates - San Antonio, TX
NewForest Estates - San Antonio, TX
Watercrest at Katy - Katy, TX
Atria Collier Park - Beaumont, TX
Lyndale San Angelo - San Angelo, TX
Azalea Trails - Tyler, TX
Avalon Memory Care - Carrollton - Carrollton, TX
Bader House - San Antonio, TX
Brooks Home For Seniors - San Antonio, TX
Argent Court of Seguin - Seguin, TX
Grand Brook Memory Care of McKinney - McKinney, TX
Silverado At Home Dallas - Addison, TX
Olimpia's Senior Care - Willis, TX
St. John's Residential Care II - Fort Worth, TX
Acadia Estates Assisted Living and Memory Care - Dallas, TX
Autumn Leaves of Arlington - Arlington, TX
Legacy Oaks Assisted Living and Memory Care - Austin, TX
Mayberry Gardens - Garland, TX
Watercrest at Alamo Ranch - San Antonio, TX
Alpha Senior Care Home - Shavano Park, TX
Grayson Place - Denison, TX
Mackenzie Place - Lubbock, TX
Georgetown Living - Georgetown, TX
Elmcroft of Braeswood - Houston, TX
Greenfield Residences of Arlington - Arlington, TX
Autumn Leaves of Flower Mound - Flower Mound, TX
Carriage Inn - Conroe - Conroe, TX
Solstice Senior Living at Rio Norte - El Paso, TX
Colonial Gardens - Fort Worth - Fort Worth, TX
The Seasons on Tezel - San Antonio, TX
Atria Canyon Creek - Plano, TX
The Clairmont - Austin, TX
Atria at Hometown - North Richland Hills, TX
The Conservatory at Champion Forest - Spring, TX
Appletree Court Assisted Living - Richardson, TX
The Conservatory at North Austin - Austin, TX
Village on the Park - Onion Creek - Austin, TX
Clayton Oaks Living - Richmond, TX
Top-Rated Senior Care in Utah
Alta Ridge of Holladay - Salt Lake City, UT
Golden Living Taylorsville - Taylorsville, UT
Olympus Ranch - Murray, UT
Sunrise of Sandy - Sandy, UT
Chancellor Gardens - Clearfield, UT
Canyon Creek - Cottonwood Heights, UT
Cedarwood at Sandy - Sandy, UT
The Harrison Regent - Ogden, UT
Legacy Retirement Residence - South Jordan, UT
Legacy House Assisted Living of South Jordan - South Jordan, UT
Sagewood at Daybreak - South Jordan, UT
Beehive Homes - Orem, UT
Bee Hive Homes of St. George - Snow Canyon - Saint George, UT
Chateau Brickyard - Salt Lake City, UT
Top-Rated Senior Care in Virginia
Rosewood Village Greenbrier - Charlottesville, VA
Greenfield of Stafford - Stafford, VA
The Fairfax - Fort Belvoir, VA
Medical Professionals On-Call - Fairfax, VA
The Independence of Charlottesville - Charlottesville, VA
Options for Senior America - Manassas, VA
Spring Arbor - Winchester - Winchester, VA
Options For Senior America - Richmond, VA
Sommerset Retirement Community - Sterling, VA
Heritage Green and Daybreak - Lynchburg, VA
Commonwealth Senior Living at Williamsburg - Williamsburg, VA
Spring Hills Mount Vernon - Alexandria, VA
Commonwealth Senior Living at Leigh Hall - Norfolk, VA
The Senior's Companion - Mechanicsville, VA
Commonwealth Memory Care at Norfolk - Norfolk, VA
Greenfield Reflections of Strasburg - Strasburg, VA
The Fairmont - Manassas, VA
Top-Rated Senior Care in Vermont
TLC Home Care Services - South Burlington, VT
Top-Rated Senior Care in Washington
Orchard Park Assisted Living - Bellingham, WA
Broadway Court Estates - Spokane Valley, WA
Synergy Home Care - Seattle, WA
Washington Oakes Retirement Community - Everett, WA
Highlander Place - Kelso, WA
Where the Heart Is - Burlington, WA
Homewatch Caregivers of Western Washington - Bellevue, WA
Overlake Terrace - Redmond, WA
Cascadian Place - Everett, WA
Northwest Healthcare, Inc. - Vancouver, WA
Bay Pointe Retirement and Marine Courte - Bremerton, WA
Kent Place - Camas, WA
Solstice Senior Living at Tacoma - Tacoma, WA
Blossom Place - Yakima, WA
La Conner Retirement Inn - La Conner, WA
Home Instead Senior Care - Tacoma, WA
The Hampton at Salmon Creek Memory Care - Vancouver, WA
Regency Newcastle - Newcastle, WA
Liberty Place - Port Orchard, WA
Cascade Place - Enumclaw, WA
Cascades of Bremerton - Bremerton, WA
Canterbury Inn - Longview, WA
Parkview Estates - Kennewick, WA
Van Mall - Vancouver, WA
Riverside Place - Hoquiam, WA
Bridle Manor Adult Family Home - Kirkland, WA
Radcliffe Place - Kent, WA
Happy Family AFH - Seattle, WA
Orchard Park - Yakima, WA
South Pointe Assisted Living - Everett, WA
Solstice Senior Living at Renton - Renton, WA
Solstice Senior Living at Kennewick - Kennewick, WA
Windriver Place - Spokane, WA
Callaway Gardens Alzheimer's Special Care Cen - Kennewick, WA
Farrington Court - Kent, WA
Vintage at Lakewood - Marysville, WA
Homestead Place - Grandview, WA
Comfort Care AFH - Snohomish, WA
Fairwinds - Brittany Park - Woodinville, WA
Fairwinds -Spokane - Spokane, WA
Evergreen Place - Vancouver, WA
The Bedford - Vancouver, WA
Redmond Heights Senior Living - Redmond, WA
Ida Culver House Ravenna - Seattle, WA
Rose Park Manor, RN - Kenmore, WA
The Quarry - Vancouver, WA
Sagebrook Senior Living at Bellevue - Bellevue, WA
A Caring Choice A.F.H. - Kirkland, WA
Queen Anne Manor - Seattle, WA
Sinclair Place - Sequim, WA
The Garden Club - Bellevue, WA
Hawthorne Court - Kennewick, WA
Madison House - Kirkland, WA
Weatherly Inn-Tacoma - Tacoma, WA
Top-Rated Senior Care in Wisconsin
Azura Memory Care of Oconomowoc - Oconomowoc, WI
Emerald Bay Retirement Community - Hobart, WI
Highlands at Wildwood Lake - Menomonee Falls, WI
Matthews of Oak Creek - Oak Creek, WI
PeopleCare In-Home Care Services, LLC - Racine, WI
Comforts of Home - Hudson II - Hudson, WI
Bella Vista - Oshkosh, WI
Meadowmere Madison - Madison, WI
Heritage West Allis - West Allis, WI
Senior Helpers - Madison, WI
Bell Tower Place - Franklin, WI
Clare Heights - Milwaukee, WI
Azura Memory Care of Stoughton - Stoughton, WI
Bellevue, a Senior Lifestyle Community - Green Bay, WI
Oak Creek Place - South Milwaukee, WI
New Perspective Senior Living | West Bend - West Bend, WI
Wissota Place - Chippewa Falls, WI
Village at the Falls - Menomonee Falls, WI
Heritage Court - Menomonee Falls - Menomonee Falls, WI
New Perspective Senior Living | Sun Prairie - Sun Prairie, WI
Hartland Place - Hartland, WI
Lake View Place - Fond du Lac, WI
Cecelia Place - Pewaukee, WI
St John's Manor - South Milwaukee, WI
Top-Rated Senior Care in West Virginia
Elmcroft of Martinsburg - Martinsburg, WV