Best Senior Care Providers of 2016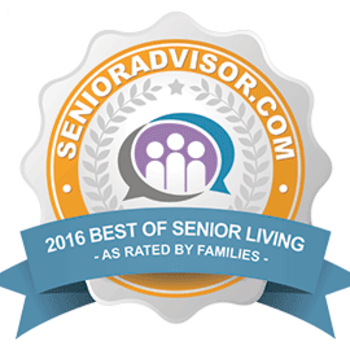 SeniorAdvisor.com's Best of 2016 Awards recognized in-home care, assisted living, and other senior living provider communities in 42 states across North America. This exclusive designation represents the top two percent of senior care providers nationwide. Winners are decided solely by feedback from the families and loved ones in the communities.
Scroll down to see the award-winning communities in your state.
Top-Rated Senior Care in Alabama • Autumn Cove Retirement Community - Anniston, AL • Brookdale Cedar Springs - Decatur, AL • Country Cottage - Montgomery - Montgomery, AL • Danberry at Inverness - Birmingham, AL • Eastdale Estates - Montgomery, AL • Morningside of Decatur - Decatur, AL • Morningside of Fayette - Fayette, AL • Pleasant Villa Retirement Home - Pleasant Grove, AL • Right at Home Birmingham - Vestavia, AL • Rocky Ridge Retirement Community - Hoover, AL • Somerby of Mobile - Mobile, AL Top-Rated Senior Care in Arkansas • Brookstone Assisted Living - Fayetteville, AR • Butterfield Place - Fort Smith, AR • Jonesboro Health and Rehabilitation - Jonesboro, AR • The Gardens at Arkanshire - Springdale, AR Top-Rated Senior Care in Arizona • 24 Hour Home Care - Scottsdale, AZ • A Paradise for Parents - Goodyear, AZ • A Paradise for Parents II - Surprise, AZ • Alott of Care - Mesa, AZ • Altercare Assisted Living Home - Mesa, AZ • Amethyst Gardens - Peoria, AZ • Atlantis II Adult Care Home - Goodyear, AZ • Atria Bell Court Gardens - Tucson, AZ • Atria Campana Del Rio - Tucson, AZ • Aurora Place - Apache Junction, AZ • Aventa Senior Care - Scottsdale, AZ • Belmont Village Scottsdale - Scottsdale, AZ • Brookdale Camino del Sol - Sun City West, AZ • Brookdale East Mesa - Mesa, AZ • Brookdale Oro Valley - Oro Valley, AZ • Brookdale Springs Mesa - Mesa, AZ • Brookdale Tempe - Tempe, AZ • Casa Del Rio - Peoria, AZ • Cascades of Tucson - Tucson, AZ • Castle Canyon Assisted Living - Chandler, AZ • Cerna Home Care - Phoenix, AZ • Copper Creek Inn - Chandler, AZ • Country Club at La Cholla - Tucson, AZ • Davis House - Bullhead City, AZ • Desert Rose - Yuma, AZ • Discovery Point Retirement Community - Mesa, AZ • Elmcroft of River Centre - Tucson, AZ • Estrella Estates - Goodyear, AZ • Gardens at Ocotillo Senior Living - Chandler, AZ • Glassford Place - Prescott Valley, AZ • Granite Gate Senior Living - Prescott, AZ • Heritage Village Assisted Living - Mesa, AZ • I Need An Angel, Inc. - Scottsdale, AZ • Oasis at Mesa Palms - Mesa, AZ • Pacifica Senior Living Paradise Valley - Phoenix, AZ • Pacifica Senior Living Peoria - Peoria, AZ • Pacifica Senior Living Tucson - Tucson, AZ • Palos Verdes Senior Living - Peoria, AZ • Paradise Village Senior Living - Phoenix, AZ • Park Wood Assisted Living - Surprise, AZ • Pathways Assisted Living & Memory Care Neighborhood- Goodyear, AZ • Powell Place - Payson, AZ • Prestige Assisted Living at Green Valley - Green Valley, AZ • Royal Paradise - Surprise, AZ • Santo Nino Villas - Chandler, AZ • Senior Care Management Solutions, LLC. - Phoenix, AZ • Silverado Peoria - Peoria, AZ • Sunrise at River Road - Tucson, AZ • Sunrise of Chandler - Chandler, AZ • The Fountains at La Cholla - Tucson, AZ • The Groves, A Merrill Gardens Community - Goodyear, AZ • The Oaks - Gilbert, AZ • The Sanctuary of Phoenix - Phoenix, AZ • The Villas at Houghton - Tucson, AZ • Thunderbird Senior Living - Glendale, AZ • Tuscany at McCormick Ranch - Scottsdale, AZ • Villa Jean - Chandler, AZ • Vista De La Montana - Surprise, AZ • Westchester Senior Living - Tempe, AZ
Top-Rated Senior Care in California • 1 Saint - Cerritos, CA • 24 Hr Home Care of Fullerton - Orange, CA • 24 Hr HomeCare - Culver City, CA • 24 Hr HomeCare - Encino, CA • 24 Hr HomeCare - Irvine, CA • 24 Hr Homecare - San Diego, CA • 24 Hr HomeCare - Santa Clara - Santa Clara, CA • 24 Hr HomeCare - Torrance, CA • 24 Hr HomeCare - Walnut Creek, CA • ActivCare at Rolling Hills Ranch - Chula Vista, CA • All City Caregivers - Woodland Hills, CA • All City Caregivers, Inc - Simi Valley, CA • Allison's Home Care - Diamond Bar, CA • Ativa Home Care - Newport Beach, CA • Atria Covell Gardens - Davis, CA • Atria Del Rey - Rancho Cucamonga, CA • Atria El Camino Gardens - Carmichael, CA • Atria Golden Creek - Irvine, CA • Atria Hacienda - Palm Desert, CA • Atria Las Posas - Camarillo, CA • Atria Palm Desert - Palm Desert, CA • Atria Paradise - Paradise, CA • Atria Rancho Park - San Dimas, CA • Atria San Juan - San Juan Capistrano, CA • Atria Valley View - Walnut Creek, CA • Beacon Home Care - Albany, CA • Bella Vista Memory Care - Fresno, CA • Belmont Village Burbank - Burbank, CA • Belmont Village Hollywood - Los Angeles, CA • Belmont Village Sabre Springs - San Diego, CA • Belmont Village San Jose - San Jose, CA • Beverly Oaks - Murrieta, CA • Bixby Knolls Towers - Long Beach, CA • Brightwater Senior Living of Highland - Highland, CA • Brookdale Corona - Corona, CA • Brookdale Elk Grove - Elk Grove, CA • Brookdale Fremont - Fremont, CA • Brookdale Fresno - Fresno, CA • Brookdale Lodi - Lodi, CA • Brookdale Murrieta - Murrieta, CA • Brookdale North Euclid - Ontario, CA • Brookdale Red Bluff - Red Bluff, CA • Brookdale Sterling Court - Roseville, CA • Brookdale Stock Ranch Road - Citrus Heights, CA • Brookdale Vallejo Hills - Vallejo, CA • CAI's Home Care - Tarzana, CA • Campus Commons Retirement - Sacramento, CA • Care 4 You - San Dimas, CA • Carlton Plaza of Sacramento - Sacramento, CA • Carlton Plaza San Leandro - San Leandro, CA • Carmel Village Retirement - Fountain Valley, CA • Casa De Modesto - Modesto, CA • Champine Manor - Escondido, CA • Chateau III - Pleasant Hill, CA • Chateau on Broadway - Concord, CA • Ciric Care Home - Sacramento, CA • Comforcare Senior Services - Orinda, CA • Comfort Keepers - Buena Park, CA • Country Assisted Living - Tehachapi, CA • Creekside Oaks - Folsom, CA • Daly Care - Glendale, CA • Eagle Glen Care Home - Corona, CA • El Molino Rose Villa - Pasadena, CA • Elmcroft of Point Loma - San Diego, CA • Eternal Life Assisted Living - Van Nuys, CA • Evergreen Cottage II - Sierra Madre, CA • Felicita Vida - Escondido, CA • Fig Garden - Fresno, CA • Foothill Retirement - Tujunga, CA • Fremont Hills - Fremont, CA • Golden Age Care Home - Carmichael, CA • Golden Oaks - Yucaipa, CA • Golden Tuscany Care - Anaheim, CA • Heartland Home Health Inc - Simi Valley, CA • Hilltop Commons - Grass Valley, CA • Hilltop Estates - Redding, CA • Home Care Assistance - San Francisco, CA • Home Care Plus Corporation - Encino, CA • Integrated Care Communities - Moreno Valley, CA • Just Like Home - Valley Village, CA • Lantern Crest - Santee, CA • Las Brisas - San Luis Obispo, CA • Leisure Pointe - San Bernardino, CA • Mori Manor - San Leandro, CA • Nina's Home - Fresno, CA • No Place Like Home For Golden Ages - Glendale, CA • North Lake Villa - Altadena, CA • Oakmont of Carmichael - Carmichael, CA • Oakmont of Chino Hills - Chino Hills, CA • Oakmont of Fresno - Fresno, CA • Oasis Senior Living - Reseda, CA • Olympic Board and Care - Los Angeles, CA • Orangeburg Manor - Modesto, CA • Our Family Care Home - Vista, CA • Pacifica Senior Living Newport Mesa - Costa Mesa, CA • Pacifica Senior Living Riverside - Riverside, CA • Preferred Care at Home - Walnut Creek, CA • Prestige Assisted Living at Visalia - Visalia, CA • Quail Lodge - Antioch, CA • Raincross - Riverside, CA • Raya's Paradise - Los Angeles, CA • Redwood Terrace - Escondido, CA • Regency Grand at West Covina - West Covina, CA • Regency of Evergreen Valley - San Jose, CA • Regency Park Oak Knoll - Pasadena, CA • Regents Point - Irvine, CA • Revere Court - Sacramento, CA • Right at Home - Modesto, CA • Rowntree Gardens - Stanton, CA • Shasta Estates - Redding, CA • Sierra Regency - Roseville, CA • Silverado Belmont Hills - Belmont, CA • Silverado Escondido - Escondido, CA • Silvergate Retirement Residence - San Marcos, CA • Somerford Place Encinitas - Encinitas, CA • Somerford Place Stockton - Stockton, CA • Splendor Valley, LLC - Escondido, CA • St. Francis Care Home I - Walnut Creek, CA • Sterling Commons - Victorville, CA • Stetson Court Living - Stockton, CA • Stonewall Gardens - Palm Springs, CA • Sun Oak Assisted Living - Citrus Heights, CA • Sundial Assisted Living - Redding, CA • Sunland Living - Granada Hills, CA • Sunlit Gardens - Alta Loma, CA • Sunrise At La Costa - Carlsbad, CA • Sunrise at San Marino - San Gabriel, CA • Sunrise at Wood Ranch - Simi Valley, CA • Sunrise of Bonita - Chula Vista, CA • Sunrise of Danville - Danville, CA • Sunrise of Huntington Beach - Huntington Beach, CA • Sunrise of Seal Beach - Seal Beach, CA • Sunrise of Tustin - Santa Ana, CA • Sunrise of West Hills - West Hills, CA • Sunshine Heights - Los Angeles, CA • The Bonaventure - Ventura, CA • The Camelot - Hemet, CA • The Chateau at Harveston - Temecula, CA • The Fair Oaks by Regency Park - Pasadena, CA • The Hampshire - Merced, CA • The Manse On Marsh - San Luis Obispo, CA • The Meadows Senior Living - Elk Grove, CA • The Palms - La Mirada, CA • The Palms at LaQuinta - La Quinta, CA • The Springs of Napa - Napa, CA • Topanga Park Assisted Living - Canoga Park, CA • Valencia Commons - Rancho Cucamonga, CA • Valley View Gardens - Garden Grove, CA • Vivante - Costa Mesa, CA • Waterford Terrace - La Mesa, CA • Welbrook South Bay - Torrance, CA • Winding Commons - Carmichael, CA • Yosemite Gardens - Clovis, CA Top-Rated Senior Care in Colorado • Aspen House - Loveland, CO • Atria Applewood - Lakewood, CO • Atria Inn at Lakewood - Lakewood, CO • Atria Longmont - Longmont, CO • Broadmoor Court - Colorado Springs, CO • Brookdale Bear Creek - Colorado Springs, CO • Brookdale Littleton - Littleton, CO • Brookdale Mariana Butte - Loveland, CO • Brookdale North Loveland - Loveland, CO • Brookdale Roslyn - Denver, CO • Brookdale University Park - Denver, CO • Chelsea Place Memory Care - Aurora, CO • Cherry Creek Retirement Village - Aurora, CO • Columbine Chateau II - Pueblo West, CO • Gabriel Assisted Living - Centennial, CO • Greeley Place - Greeley, CO • Greenridge Place - Westminster, CO • Harvard Square - Denver, CO • Highland Trail - Broomfield, CO • Lakeview Senior Living - Lakewood, CO • Lincoln Meadows Senior Living - Parker, CO • Meridian Englewood - Englewood, CO • Mesa View - Grand Junction, CO • Palisades At Broadmoor Park - Colorado Springs, CO • Rose of Sharon - Aurora, CO • Seven Lakes Memory Care - Loveland, CO • Springbrooke Retirement and Assisted Living C - Denver, CO • Summit Glen - Colorado Springs, CO • Sunrise at University Park - Colorado Springs, CO • The Atrium of Grand Valley - Grand Junction, CO • The Meridian - Westland - Lakewood, CO • The Meridian Arvada - Arvada, CO • Village at Lowry - Denver, CO Top-Rated Senior Care in Connecticut • Academy Point At Mystic - Mystic, CT • Atria Crossroads Place - Waterford, CT • MiddleBrook Farms at Trumbull - Trumbull, CT • Stay At Home Care LLC - Manchester, CT • The Gables at Guilford - Guilford, CT • The Village at South Farms - Middletown, CT • The Village at Waveny - New Canaan, CT Top-Rated Senior Care in Delaware • Brookdale White Chapel - Newark, DE • Lorelton - Wilmington, DE • Sunrise Assisted Living of Wilmington - Wilmington, DE Top-Rated Senior Care in Florida • A Caring Hand ALF - Miramar, FL • American House Bonita Springs Senior Living - Bonita Springs, FL • American House Zephyrhills - Zephyrhills, FL • Arden Courts of West Palm Beach - West Palm Beach, FL • Atria Baypoint Village - Hudson, FL • Atria Evergreen Woods - Spring Hill, FL • Atria San Pablo - Jacksonville, FL • Barrington Terrace of Ft. Myers - Fort Myers, FL • Bayshore Guest Home - Nokomis, FL • Benton House of Titusville - Titusville, FL • Brookdale Island Lake - Longwood, FL • Brookdale Mandarin Central - Jacksonville, FL • Brookdale North Naples - Naples, FL • Brookdale Paddock Hills - Ocala, FL • Century Oaks - Melbourne, FL • Chelsea Place Assisted Living Facility - Port Charlotte, FL • Cherry Laurel - Tallahassee, FL • Cinnamon Cove - New Port Richey, FL • Cutler Bay Village - Cutler Bay, FL • Cypress Village - Jacksonville, FL • Elite Senior Home Care, LLC - Greenacres, FL • Elmcroft of Timberlin Parc - Jacksonville, FL • Florida Presbyterian Homes Inc - Lakeland, FL • Golden Age Senior Living Care LLC - Kissimmee, FL • Grace House of Tampa Inc. - Tampa, FL • Grand Villa of Largo - Largo, FL • HarborChase of North Collier - Naples, FL • Heron East - Sarasota, FL • Hibiscus Court - Melbourne, FL • Highland Place - Inverness, FL • Humphrey ALF - Tampa, FL • Imperial Club - Aventura, FL • Juniper Village at Cape Coral - Cape Coral, FL • Lake Morton Plaza - Lakeland, FL • Lake Worth Gardens - Lake Worth, FL • Loving In-Home Care Inc. - New Port Richey, FL • Magnolia Manor Assisted Living - Lutz, FL • Marion Woods - Ocala, FL • Osprey Lodge - Tavares, FL • Osprey Village at Amelia Island Plantation - Amelia Island, FL • Pacifica Senior Living Creekside - Pensacola, FL • Parkside Inn - Boynton Beach, FL • Plantation Key Health and Rehabilitation - Tavernier, FL • Queen of Angels - Orange Park, FL • Santa Barbara BH - Miami, FL • Savannah Court of Brandon - Brandon, FL • Seasons Belleair - Belleair, FL • Seasons Largo - Clearwater, FL • Sonata at Melbourne - Melbourne, FL • Spring Hills Hunters Creek - Orlando, FL • Spring Hills Lake Mary - Lake Mary, FL • Sterling Court - Deltona, FL • Stratford Court at Boca Pointe - Boca Raton, FL • Stuart Lodge - Stuart, FL • Sunrise of Jacksonville - Jacksonville, FL • The Barrington - Largo, FL • The Carlisle Palm Beach - Lantana, FL • The Carriage House - Oxford, FL • The Cloisters - Deland, FL • The Cordova at Oakmonte Village - Lake Mary, FL • The Crossings at Riverview - Riverview, FL • The Landings of St Andrew - New Port Richey, FL • The Princess Martha - Saint Petersburg, FL • The Venetian Gardens - Venice, FL • The Villas at Sunset Bay - New Port Richey, FL • The Windsor at Ortega - Jacksonville, FL • Waterman Village Retirement Community - Mount Dora, FL • Weinberg Village ALF - Tampa, FL • Willow Wood - Fort Lauderdale, FL Top-Rated Senior Care in Georgia • Angels Garden Senior Communities - Dacula, GA • Angels Personal Care Home - Riverdale, GA • Arbor Terrace of Athens - Athens, GA • Arbor Terrace Peachtree City - Peachtree City, GA • Ashbrook Village - Villa Rica, GA • Ashton Walk Apartments - Forest Park, GA • Ashwood Meadows - Johns Creek, GA • Atria Johnson Ferry - Marietta, GA • Atria North Point - Alpharetta, GA • Benton House of Sugar Hill - Sugar Hill, GA • Brighton Gardens of Dunwoody - Atlanta, GA • Bristol Village - Conyers, GA • Brookdale Columbus - Columbus, GA • Clairmont Oaks - Decatur, GA • Country Gardens Senior Living - Union City, GA • Creekside Pines - Dallas, GA • Dalton Place - Dalton, GA • Daybreak Village Senior Living - Kennesaw, GA • Dogwood Forest of Acworth - Acworth, GA • Dogwood Forest of Gainesville - Gainesville, GA • Dogwood Forest of Stockbridge/Eagle's Land - Stockbridge, GA • Dunwoody Pines - Atlanta, GA • Governor's Glen Memory Care Assisted Living - Forest Park, GA • Greenwood Place - Marietta, GA • Home Care Assistance - Atlanta, GA • Home Care Matters - Flowery Branch, GA • Home Helpers of GA - Newnan, GA • Home Instead Senior Care - Bogart, GA • Hope Memory Care Center - Fayetteville, GA • Ivy Springs Manor - Buford, GA • Lakeview Manor - Springfield, GA • Laurel Grove - Lawrenceville, GA • Magnolia Manor on the Coast - Richmond Hill, GA • Marshall Square Retirement Resort - Evans, GA • Marsh's Edge - Saint Simons Island, GA • Merryvale Assisted Living - Oxford, GA • Morningside of Athens - Athens, GA • Northstar Place - Kennesaw, GA • Orchard at Tucker - Tucker, GA • Oxton Place of Gainesville - Gainesville, GA • Oxton Place of Rome - Rome, GA • Parc at Duluth - Duluth, GA • Philips Presbyterian Tower - Decatur, GA • Pinegate - Macon, GA • Premium Personal Care Home - Marietta, GA • Prosper Home Care - Norcross, GA • Riverplace - Columbus, GA • Safe Haven at Brookhaven - Atlanta, GA • Savannah Commons - Savannah, GA • Savannah Court of Newnan - Newnan, GA • Savannah Grand of Towne Lake - Woodstock, GA • Silverleaf of Snellville - Snellville, GA • Sit Well Home Care Services - Marietta, GA • Southern Haven - Dalton, GA • Sterling Estates Senior Living Community - Marietta, GA • Sunrise at Five Forks - Lilburn, GA • The Oaks at Hampton - Cumming, GA • The Palms at Lake Spivey - Lake Spivey, GA • TridentCare Health Services, Inc. - Alpharetta, GA • TRUMARK Home Care - Johns Creek, GA Top-Rated Senior Care in Iowa • Allen Place - Atlantic, IA • Amelia Place - Council Bluffs, IA • Eagle Pointe Place - Dubuque, IA • Emery Place Assisted Living & Memory Care - Robins, IA • Meadowview Memory Care Village - Cedar Rapids, IA • Palmer Hills - Bettendorf, IA • Prairie Hills at Des Moines - Des Moines, IA • Senior Star at Elmore Place - Davenport, IA • Swan Place - Carroll, IA • Whispering Creek - Sioux City, IA Top-Rated Senior Care in Idaho • Clearwater House - Nampa, ID • Emerson House at River Pointe - Garden City, ID • Garden Plaza of Post Falls - Post Falls, ID • Grace Assisted Living @ State Street - Boise, ID • Guardian Angel Homes - Post Falls, ID • Homewatch CareGivers - Meridian, ID • Paramount Parks at Eagle - Eagle, ID • Salmon Creek - Boise, ID • The Cottages of Boise - Boise, ID Top-Rated Senior Care in Illinois • All Help Health Services - Chicago, IL • American House Cedarlake - Plainfield, IL • Arden Courts of Geneva - Geneva, IL • Arden Courts of Hazel Crest - Hazel Crest, IL • Arden Courts of Northbrook - Northbrook, IL • Atria Park of Glen Ellyn - Glen Ellyn, IL • Autumn Green at Midway Village - Chicago, IL • Autumn Leaves of Bolingbrook - Bolingbrook, IL • Autumn Leaves of Crystal Lake - Crystal Lake, IL • Autumn Leaves of Glen Ellyn - Glen Ellyn, IL • Autumn Leaves of Oswego - Oswego, IL • Autumn Leaves of South Barrington - South Barrington, IL • Autumn Leaves of Vernon Hills - Vernon Hills, IL • Belmont Village Glenview - Glenview, IL • Bridgeway of Bensenville - Bensenville, IL • Brookdale Burr Ridge - Burr Ridge, IL • Brookdale Glen Ellyn - Glen Ellyn, IL • Brookdale Lake View - Chicago, IL • Brookdale Lisle - Lisle, IL • Cedarhurst Assisted Living - Collinsville, IL • Central Baptist Village - Norridge, IL • Colfax Manor Assisted Living - Chicago, IL • ComForcare Senior Services - Northfield, IL • Fox Point - McHenry, IL • Garden Place of Columbia - Columbia, IL • Heritage Woods of Huntley - Huntley, IL • Home Helpers - Elmhurst, IL • Independence Village of Peoria - Peoria, IL • Lexington Square of Elmhurst - Elmhurst, IL • Morningside of Godfrey - Godfrey, IL • Plum Landing Retirement Community - Aurora, IL • Prairie Green At Dixie Crossing - Chicago Heights, IL • Primus Home Care - Mount Prospect, IL • Riverside Assisted Living & Memory Care - Bourbonnais, IL • Senior Suites of Central Station - Chicago, IL • Senior Suites of Jefferson Park - Chicago, IL • Senior Suites of Rainbow Beach - Chicago, IL • Silverado Naperville - Naperville, IL • Sunrise at Fountain Square - Lombard, IL • Sunrise of Bloomingdale - Bloomingdale, IL • Sunrise of Gurnee - Gurnee, IL • Sunrise of Naperville - Naperville, IL • Sunrise of Palos Park - Palos Park, IL • Sunrise of Park Ridge - Park Ridge, IL • Sunrise of Willowbrook - Willowbrook, IL • Terrace Gardens Assisted Living - Morton Grove, IL • The Fountains of Shiloh - Belleville, IL • The Gardens of Waterford - Aurora, IL • The Grand Victorian of Pekin - Pekin, IL • The Inn at Willow Falls - Crest Hill, IL • Theresa's Home Care - Gurnee, IL • Tillers Nursing Home Inc - Oswego, IL Top-Rated Senior Care in Indiana • Atria Newburgh - Newburgh, IN • Bennett Place - New Albany, IN • Bickford of Crown Point - Crown Point, IN • Brentwood at Hobart - Hobart, IN • Brookdale Fall Creek - Indianapolis, IN • Brownsburg Meadows Assisted Living - Brownsburg, IN • Chandler Place - Kendallville, IN • Christina Place - Franklin, IN • Coventry Meadows Assisted Living & Garden - Fort Wayne, IN • Grand Emerald Place - South Bend, IN • Hamilton Place - Fort Wayne, IN • Harbour Assisted Living/Fort Wayne - Fort Wayne, IN • Lake City Place - Warsaw, IN • Magnolia Springs Bridgewater - Carmel, IN • Meadow Brook Senior Living - Fishers, IN • Monroe Place - Bloomington, IN • Northridge Gracious Retirement Living - Fishers, IN • Oak Woods Manor - La Porte, IN • Parkside Court - Columbus, IN • Riverbend - Jeffersonville, IN • Rosewalk at Lutherwoods Assisted Living - Indianapolis, IN • Sterling House of South Bend - South Bend, IN • Tipton Place - Huntington, IN • Walker Place - Shelbyville, IN • Westside Garden Plaza - Indianapolis, IN • Worthington Place - Camby, IN Top-Rated Senior Care in Kansas • Brookdale Leawood - Leawood, KS • Brookdale Overland Park - Overland Park, KS • Brookdale Overland Park 119th - Overland Park, KS • Brookdale Shawnee - Shawnee, KS • Chaucer Estates - Wichita, KS • Garden Villas of Lenexa - Lenexa, KS • Greenwood Terrace - Lenexa, KS • Park Meadows Senior Living - Overland Park, KS • Reflection Ridge Retirement Resort - Wichita, KS • Sterling House of Tallgrass - Wichita, KS • Sunrise of Lenexa - Lenexa, KS • The Atrium at Overland Park - Overland Park, KS • Thornton Place - Topeka, KS Top-Rated Senior Care in Kentucky • Atria St. Matthews - Louisville, KY • Atria Stony Brook - Louisville, KY • Daisy Hill Senior Living - Versailles, KY • Elmcroft of Valley Farms - Louisville, KY • The Lantern at Morning Pointe of Lexington - Lexington, KY • Wesley Manor Retirement Community - Louisville, KY Top-Rated Senior Care in Louisiana • Azalea Estates of Gonzales - Gonzales, LA • Bloom at Bossier - Bossier City, LA • Park Provence - Slidell, LA • Peristyle Metairie Heights - Metairie, LA • Russ Place - Ruston, LA • The Trace Senior Community - Covington, LA • The Windsor Senior Living Community - Mandeville, LA Top-Rated Senior Care in Massachusetts • All American Assisted Living - Raynham, MA • Armbrook Village - Westfield, MA • Atria Draper Place - Hopedale, MA • Benchmark Senior Living at Billerica Crossings - Billerica, MA • Bluebird Estates - East Longmeadow, MA • Boylston Place at Chestnut Hill - Chestnut Hill, MA • Brightview Arlington - Arlington, MA • Care Resolutions Inc - Medfield, MA • Comfort Zone Home Care, LLC - Framingham, MA • East Village Place - East Longmeadow, MA • Emeritus at Plymouth Beach - Plymouth, MA • Harbor Point of Centerville - Centerville, MA • Heatherwood - Tewksbury, MA • Southgate At Shrewsbury - Shrewsbury, MA • Sunrise of Norwood - Norwood, MA • The Highlands - Westborough, MA • The Residence at Watertown Square - Watertown, MA • The Residences at Wingate - Needham, MA • Thirwood Place - South Yarmouth, MA Top-Rated Senior Care in Maryland • 2nd Family - Eldersburg, MD • Brightview Catonsville - Catonsville, MD • Brightview Rolling Hills - Catonsville, MD • Brightview White Marsh - Nottingham, MD • Broadmead - Cockeysville, MD • Distinctive Home Care Inc. - Largo, MD • Elder Estates, LLC - New Carrollton, MD • Emeritus at Towson - Baltimore, MD • HeartLands Assisted Living at Severna Park - Severna Park, MD • HeartLands SL Village at Ellicott City - Ellicott City, MD • Laytonsville Estate Assisted Living - Laytonsville, MD • Morningside House of Ellicott City - Ellicott City, MD • Morningside House of Friendship - Hanover, MD • NORTH OAKS RETIREMENT COMMUNITY - Baltimore, MD • Pickersgill Retirement Community - Towson, MD • RiverPoint - Essex, MD • Roland Park Place - Baltimore, MD • Sagepoint Senior Living Services (Formerly CCNRC) - La Plata, MD • Somerford House & Place Frederick - Frederick, MD • Sunrise at Montgomery Village - Gaithersburg, MD • Sunrise of Annapolis - Annapolis, MD • Sunrise of Frederick - Frederick, MD • Sunrise of Rockville - Rockville, MD • Sunrise of Silver Spring - Silver Spring, MD • Tranquil Loving Care - Gaithersburg, MD Top-Rated Senior Care in Maine • Avita of Stroudwater - Westbrook, ME • Bellavita at Scarborough - Scarborough, ME • Huntington Common - Kennebunk, ME • Scarborough Terrace - Scarborough, ME • Schooner Estates Senior Living - Auburn, ME • Sunbury Village - Bangor, ME Top-Rated Senior Care in Michigan • American House Jenison - Jenison, MI • American House Lakeside Senior Living - Clinton Township, MI • American House Troy Senior Living - Troy, MI • American House Village Senior Living - Rochester Hills, MI • Aspen Grove - Lambertville, MI • Atria Kinghaven - Riverview, MI • Atria Park of Ann Arbor - Ann Arbor, MI • Atria Shorehaven - Sterling Heights, MI • Brookdale Farmington Hills North - Farmington Hills, MI • Brookhaven Manor - Ann Arbor, MI • Brookridge Heights - Marquette, MI • Brownstown Forest View Assisted Living - Brownstown Charter Township, MI • Cambrian Assisted Living - Tecumseh, MI • Chester Street Residence - Royal Oak, MI • Courtyard Manor of Fenton - Fenton, MI • Dragonfly Manor - Webberville, MI • Elmhaven Manor - Pontiac, MI • Embrace Group Home LLC - Canton, MI • Garden Estates Care Home - Jackson, MI • Genesee Gardens - Flint, MI • Genesis Elder Care - Warren, MI • Golden Heart of Rochester Hills - Troy, MI • Good Faith Manor - Southfield, MI • Independence Village of East Lansing - East Lansing, MI • Lake Huron Woods - Fort Gratiot, MI • Lockwood of Waterford - Waterford, MI • Lourdes Senior Community - Waterford, MI • Maple Heights Retirement Community - Allen Park, MI • Pavel Residence - New Boston, MI • Pine Ridge Retirement Community - Garfield - Clinton Township, MI • Pine Ridge Retirement Community at Plumbrook - Sterling Heights, MI • Safe Haven Adult Foster Care - Auburn Hills, MI • Sanctuary at Marian Oakland - Farmington Hills, MI • Sanctuary at Marian Place - Monroe, MI • Senior Helpers - Farmington Hills, MI • Senior Helpers - Richmond, MI • Sojourner Place - Kalamazoo, MI • Sterling House of Saginaw - Saginaw, MI • Sunrise of Troy - Troy, MI • The Bellaire - Riverview, MI • The Villa at Redford - Redford Charter Township, MI • Town Village Sterling Heights - Sterling Heights, MI • Villas of Shelby - Shelby Township, MI • Wadhams Creek Senior Community - Kimball, MI • Wescourt - Saginaw, MI • Westhaven Manor - Westland, MI Top-Rated Senior Care in Minnesota • Edgewood Senior Living - Blaine, MN • Golden Pond Home - Maple Grove, MN • Keystone Communities of Eagan - Eagan, MN • Kingsway Retirement Living - Belle Plaine, MN • Lighthouse of Columbia Heights - Columbia Heights, MN • St Benedict's Senior Community - Monticello, MN • Summit Place Senior Campus - Eden Prairie, MN • Sunrise of Edina - Edina, MN • Sunrise of Golden Valley - Golden Valley, MN • The Waters of Plymouth - Plymouth, MN • The Wellstead of Rogers - Rogers, MN Top-Rated Senior Care in Missouri • Benton House of Tiffany Springs - Kansas City, MO • Boone Landing - Columbia, MO • Brookdale Creve Coeur - Saint-Louis, MO • Brookdale Wornall Place - Kansas City, MO • College View Manor - Joplin, MO • Country Squire - Saint Joseph, MO • Crestview Senior Living - Saint Louis, MO • Creve Coeur Assisted Living - Creve Coeur, MO • Delmar Gardens of Chesterfield - Chesterfield, MO • Delmar Gardens of Meramec Valley - Fenton, MO • Emeritus at Oak Tree Village - Saint Peters, MO • Fairwinds - Saint Charles, MO • Garden Village - Kansas City, MO • Garden Villas - Town and Country, MO • Garden Villas North - Black Jack, MO • Garden Villas of O'Fallon - O'Fallon, MO • Garden Villas South - Saint Louis, MO • McCormack House - Saint Louis, MO • Park Place Senior Living in Winghaven - O'Fallon, MO • Ravenwood & Arbors at Ravenwood - Springfield, MO • Richmond Terrace - Saint Louis, MO • Senior Helpers - Webster Groves, MO • SummitView Terrace - Kansas City, MO • Sunrise of Des Peres - Des Peres, MO • Synergy Homecare - Saint Louis, MO • Tesson Heights - Saint Louis, MO • The Cambridge - Springfield, MO • The Carlyle - Lee's Summit, MO • The Fountains At Greenbriar - Independence, MO • The Gardens at Jackson Creek - Independence, MO • The Gardens at Northgate Village - North Kansas City, MO • The Homestead at Hickory View - Washington, MO • The Waterford at Ironbridge - Springfield, MO • Tower Grove Manor - Saint Louis, MO • Twin Oaks at Heritage Pointe - Wentzville, MO • Villa Ventura - Kansas City, MO Top-Rated Senior Care in Mississippi • Silvercreek Senior Living - Olive Branch, MS • The Gardens - Ocean Springs, MS • The Waterford on Highland Colony - Ridgeland, MS Top-Rated Senior Care in Montana • Aspen View - Billings, MT • Spring Creek Inn - Bozeman, MT Top-Rated Senior Care in North Carolina • Ardenwoods - Arden, NC • Atria MerryWood - Charlotte, NC • Brighton Gardens of Greensboro - Greensboro, NC • Brookdale Dickinson Avenue - Greenville, NC • Brookdale Hendersonville North - Hendersonville, NC • Brookdale High Point North Memory Care - High Point, NC • Brookdale New Bern - New Bern, NC • Brookdale Pinehurst - Pinehurst, NC • Brookdale Weddington Park - Matthews, NC • Cambridge Village of Apex - Apex, NC • Carepoint, Inc - Charlotte, NC • Carmel Place - Charlotte, NC • Carolina Estates - Greensboro, NC • Cedar Ridge - Burlington, NC • Clare Bridge of Wilmington - Wilmington, NC • Elmcroft of Little Avenue - Charlotte, NC • Emerald Pond - Durham, NC • Franklin Manor - Youngsville, NC • Gardens of Statesville - Statesville, NC • Heritage Place - Fayetteville, NC • Legacy Heights Senior Living Community - Charlotte, NC • Mallard Ridge - Clemmons, NC • Oak Park Retirement - Salisbury, NC • Regency Retirement Village - Charlotte, NC • Ridgecrest - Mount Airy, NC • Right at Home of Wake County - Raleigh, NC • The Crossings at Steele Creek - Charlotte, NC • The Laurels at Highland Creek - Charlotte, NC • The Woods at Holly Tree - Wilmington, NC • Whispering Pines - Raleigh, NC • Willow Grove - Matthews, NC Top-Rated Senior Care in Nebraska • Carter Place - Blair, NE • Edgewood Vista Omaha - Omaha, NE • Elk Ridge Village - Elkhorn, NE • Greene Place - Seward, NE • Harrison Heights Senior Village - La Vista, NE • Morton Place - Nebraska City, NE • Pathfinder Place - Fremont, NE • Rolling Hills Ranch - Omaha, NE • Savannah Pines Retirement Resort - Lincoln, NE • The Waterford at Wilderness Hills - Lincoln, NE
Top-Rated Senior Care in New Hampshire • Forestview Manor Assisted Living - Meredith, NH • Maple Suites - Dover, NH • The Pines Of Newmarket - Newmarket, NH
Top-Rated Senior Care in New Jersey • Assisting Hands of Essex, South Morris, and Passaic Counties - Livingston, NJ • Atria Cranford - Cranford, NJ • Brandywine Senior Living at Howell - Howell, NJ • Brighton Gardens of Saddle River - Saddle River, NJ • Brightview Greentree - Marlton, NJ • Brightview Woodbury Lake - Woodbury, NJ • Brookdale Cape May - Middle Township, NJ • Brookdale Hillsborough - Hillsborough, NJ • Brookdale Westampton - Westampton, NJ • Canterbury Village - West Orange, NJ • Colonial Manor - Allamuchy, NJ • Colors Healthcare Inc - Hackensack, NJ • Comfort Keepers - Flemington, NJ • Granville Place - Burlington, NJ • Green Hill Retirement Community - West Orange, NJ • Leisure Park - Lakewood, NJ • Little Nursing Home - Montclair, NJ • Memory Care Living at Ramsey - Ramsey, NJ • Monmouth Crossing Assisted Living - Freehold, NJ • Pitman Manor - Pitman, NJ • Regency Gardens Nursing and Post-acute Rehabilitation Center - Wayne, NJ • Regency Grande Nursing and Post-acute Rehabilitation Center - Dover, NJ • Regency Heritage Nursing and Post-acute Rehabilitation Center - Franklin Township, NJ • Regency Park Nursing and Post-acute Rehabilitation Center- Hazlet, NJ • Spring Hills Morristown - Morristown, NJ • Spring Hills Somerset - Somerset, NJ • Spring Village at Galloway - Galloway, NJ • Sunrise of Jackson - Jackson, NJ • Sunrise of Madison - Madison, NJ • Sunrise of Marlboro - Marlboro, NJ • Sunrise of Morris Plains - Morris Plains, NJ • Sunrise of Old Tappan - Old Tappan, NJ • Sunrise of Paramus - Paramus, NJ • Sunrise of Randolph - Randolph, NJ • Sunrise of Wayne - Wayne, NJ • The Bristal Assisted Living at Woodcliff Lake - Woodcliff Lake, NJ • The Senior Residence at St. Peter the Apostle - River Edge, NJ
Top-Rated Senior Care in New Mexico • Apex Home Health Services - Albuquerque, NM • Desert Peaks Assisted Living & Memory Care - Las Cruces, NM • Fairwinds - Rio Rancho - Rio Rancho, NM • Golden Mesa - Las Cruces, NM • Haciendas at Grace Village - Las Cruces, NM • Las Colinas Village - Albuquerque, NM • Palmilla Senior Living - Albuquerque, NM • Ponce de Leon - Santa Fe, NM • The Rio Grande - Rio Rancho, NM • The Woodmark at Uptown - Albuquerque, NM
Top-Rated Senior Care in Nevada • Atria Sutton - Las Vegas, NV • Carson Plaza - Carson City, NV • Cascades of the Sierra - Spanish Springs, NV • Lakeside Manor - Reno, NV • Prestige Assisted Living at Henderson - Henderson, NV • Prestige Assisted Living at Mira Loma - Henderson, NV • Siena Hills - Henderson, NV • Sky Peaks - Reno, NV • The Bridge at Paradise Valley - Las Vegas, NV
Top-Rated Senior Care in New York • Access Home Care Inc. - Bohemia, NY • Appleridge Senior Living - Horseheads, NY • Atria Briarcliff Manor - Briarcliff Manor, NY • Atria Greece - Rochester, NY • Atria Guilderland - Slingerlands, NY • Atria Kew Gardens - Richmond Hill, NY • Atria Lynbrook - Lynbrook, NY • Atria of Forest Hills - Forest Hills, NY • Atria on Roslyn Harbor - Roslyn, NY • Atria Tanglewood - Lynbrook, NY • Baywinde Senior Living - Webster, NY • Cambridge Guest Home - Cambridge, NY • Christian Fellowship House - Syosset, NY • Dominican Village Inc - Amityville, NY • Drum Hill Senior Living - Peekskill, NY • Elderwood Assisted Living at Hamburg - Hamburg, NY • Fleming Point - Rochester, NY • Goodcare Home Health Services, Inc - Tonawanda, NY • Harbor House - Oyster Bay, NY • Heathwood Assisted Living at Williamsville - Williamsville, NY • Home Helpers - College Point, NY • Maple Downs - Fayetteville, NY • Millview of Latham - Cohoes, NY • Montgomery Park - East Amherst, NY • Parkrose Estates Retirement Community - Liverpool, NY • Peregrine's Landing at Orchard Park - Orchard Park, NY • Promenade at Blue Hill - Pearl River, NY • Somerset Gardens - Plainview, NY • Sunrise at Sheepshead Bay - Brooklyn, NY • Sunrise of East Setauket - East Setauket, NY • Sunrise of Mill Basin - Brooklyn, NY • Sunrise of North Lynbrook - Lynbrook, NY • Sunrise of Plainview - Plainview, NY • Sunrise of Smithtown - Smithtown, NY • Sunrise of Staten Island - Staten Island, NY • The Arbors at Bohemia - Bohemia, NY • The Bristal Assisted Living at East Northport - East Northport, NY • The Bristal Assisted Living at Lake Grove - Lake Grove, NY • The Bristal Assisted Living at Lynbrook - Lynbrook, NY • The Bristal Assisted Living at Massapequa - Massapequa, NY • The Bristal Assisted Living at North Hills - Manhasset, NY • The Bristal Assisted Living at North Woodmere - Valley Stream, NY • The Bristal Assisted Living at Westbury - Westbury, NY • The Bristal Assisted Livingat East Meadow - East Meadow, NY • The Homestead/ Barton FTHA - Apalachin, NY • The Landing of Brighton - Rochester, NY • Walden Place - Cortland, NY
Top-Rated Senior Care in Ohio • A Place to Call Home - Strongsville, OH • Alexis Gardens - Toledo, OH • Allay Senior Care Of Meyers Lake - Canton, OH • Alois - Cincinnati, OH • Arden Courts of Parma - North Royalton, OH • Barrington of West Chester - West Chester, OH • Bloom at Lakewood - Lakewood, OH • Brethren Care Village - Ashland, OH • Brighton Gardens of Washington Township - Dayton, OH • Brighton Gardens of Westlake - Westlake, OH • Brookdale Bowling Green - Bowling Green, OH • Copley Place - Copley, OH • Cottingham Retirement Community - Cincinnati, OH • Genesis Village - Toledo, OH • Hearth & Home at Van Wert - Van Wert, OH • Independence Village of Avon Lake - Avon Lake, OH • Kingsbury Place - Defiance, OH • Lutheran Village of Ashland - Ashland, OH • Meridian at Cambridge - Cambridge, OH • Miller Place - Celina, OH • Mulberry Gardens - Munroe Falls, OH • New England Club - Cincinnati, OH • Oakley Place - Greenville, OH • One Lincoln Park - Kettering, OH • Options For Senior America - Cleveland - Independence, OH • Our Family Home at Longview Drive - Dublin, OH • Our Family Home at Miami Hills - Cincinnati, OH • Our Family Home at Northigh Drive - Worthington, OH • Our Family Home at Tonti Dr - Dublin, OH • Our Family Home at Worthington Galena Road - Worthington, OH • Parkcliffe - Toledo, OH • Parkside Senior Living - Westerville, OH • Portland Place - Sandusky, OH • Safe Haven Elder Care LLC - Avon Lake, OH • Sarah Moore Community - Delaware, OH • Seasons Courtyard - Cincinnati, OH • Spring Hills Middletown - Middletown, OH • Spring Hills Singing Woods - Dayton, OH • Summit Point - Macedonia, OH • Sunrise of Gahanna - Gahanna, OH • Taylor Place - Findlay, OH • The Commons of Providence - Sandusky, OH • The Gardens at Westlake - Westlake, OH • The Inn at Olentangy Trail - Delaware, OH • The Inn at University Village - Massillon, OH • The Madison Senior Living Community - London, OH • The Normandy Senior Living - Rocky River, OH • The Waterford at Fairfield - Fairfield, OH • The Waterford at Levis Commons - Perrysburg, OH • The Worthington - Gahanna, OH • West Park Place - Toledo, OH
Top-Rated Senior Care in Oklahoma • Aberdeen Heights Senior Living Community - Tulsa, OK • Ambassadors Courtyards - Tulsa, OK • Arbor House of Midwest City, LLC - Midwest City, OK • Emeritus at Statesman Club - Oklahoma City, OK • Green Tree Assisted Living & Memory Care - Sand Springs, OK • Lionwood Senior Living - Oklahoma City, OK • Prairie Winds Alzheimer Special Care Center - Oklahoma City, OK • Southern Plains Alzheimer's Special Care - Tulsa, OK • Town Village Tulsa - Tulsa, OK • Village On The Park - Oklahoma City, OK
Top-Rated Senior Care in Oregon • Awbrey Place - Bend, OR • Barnett Woods - Medford, OR • Brookdale Geary Street - Albany, OR • Brookdale Salem Memory Care - Salem, OR • Creekside Village - Beaverton, OR • Crescent Park Senior Living - Eugene, OR • Davenport Place - Silverton, OR • Elite Care at Oatfield Estates - Milwaukie, OR • Fulga's ACH - Beaverton, OR • Garden Valley - Roseburg, OR • Hawthorne Gardens Senior Living - Portland, OR • Hearthstone of Beaverton - Beaverton, OR • Hillside Retirement Community - McMinnville, OR • Lancaster Village & Assisted Living - Salem, OR • Ochoco Village - Prineville, OR • Parkhurst Place - Hood River, OR • Parkland Retirement Cottages Assisted Living - McMinnville, OR • Pioneer Village - Jacksonville, OR • Redwood Heights Assisted Living - Salem, OR • Regency Woodland - Salem, OR • Regent Court - Corvallis, OR • Riverview Terrace - Roseburg, OR • Rogue Valley - Grants Pass, OR • Russellville Park - Portland, OR • Sheldon Park - Eugene, OR • Suncrest Place - Talent, OR • Tabor Hill Adult Care Home Inc - Portland, OR • The Elms Retirement Community - Forest Grove, OR • The Heights Assisted Living - Redmond, OR • The Springs at Sunnyview - Salem, OR • Waterford Grand - Eugene, OR • West Hills Village Senior Residence - Portland, OR
Top-Rated Senior Care in Pennsylvania • Alexandria Manor Senior Living Centers - Bath, PA • Arbour Square of Harleysville - Harleysville, PA • Atria Bethlehem - Bethlehem, PA • Atria Woodbridge Place - Phoenixville, PA • Brookdale Mt. Lebanon - Pittsburgh, PA • Chestnut Knoll - Boyertown, PA • Elmcroft of Chippewa - Beaver Falls, PA • Elmcroft of Loyalsock - Montoursville, PA • Elmcroft of Saxonburg - Saxonburg, PA • Harbour Assisted Living/Monroeville - Monroeville, PA • Hearthstone at Amity - Douglassville, PA • Juniper Village at Forest Hills - Pittsburgh, PA • Juniper Village at Meadville - Meadville, PA • Juniper Village at Mount Joy - Mount Joy, PA • Liza's House - Danielsville, PA • Manor At Market Square - Reading, PA • Masonic Village at Elizabethtown - Elizabethtown, PA • New Haven Court at Lindwood - Greensburg, PA • NewSeasons at New Britain - Chalfont, PA • Right at Home - Langhorne, PA • Rittenhouse Senior Living of Reading - Reading, PA • Spring Mill Presbyterian Village - Lafayette Hill, PA • Sunrise Senior Living of Granite Run - Media, PA • Sunrise Senior Living of Lower Makefield - Yardley, PA • The Birches of Arbour Square - Harleysville, PA • The Leland of Laurel Run - Waynesboro, PA • The Manor at Oakridge - Harrisburg, PA • The Regency At South Shore - Erie, PA • The Solana Doylestown - Warrington, PA • The Solana Horsham - North Wales, PA • Traditions of Hanover - Bethlehem, PA • WALDEN III - Wind Gap, PA • Wesley Enhanced Living at Stapeley - Philadelphia, PA
Top-Rated Senior Care in Rhode Island • Atria Lincoln Place - Lincoln, RI • The Village at Waterman Lake - Greenville, RI
Top-Rated Senior Care in South Carolina • Brightwater - Myrtle Beach, SC • Brookdale Chandler Place - Rock Hill, SC • Brookdale Florence - Florence, SC • Cascades Verdae - Greenville, SC • Eagle Crest - Myrtle Beach, SC • HarborChase of Columbia - Columbia, SC • Haywood Estates - Greenville, SC • Myrtle Beach Manor - Myrtle Beach, SC • Oakleaf Village - Greer, SC • Pendleton Manor - Greenville, SC • Pinewood Place - Goose Creek, SC • Senior Helpers - Fort Mill, SC • Summerville Estates - Summerville, SC • Summit Hills - Spartanburg, SC • The Lakes of Litchfield - Pawleys Island, SC • The Palms of Mount Pleasant - Mount Pleasant, SC • The Waterford at Columbia - Columbia, SC • Village at Greer - Greer, SC • Westminster - Greenville, SC
Top-Rated Senior Care in South Dakota • Holiday Hills Estates - Rapid City, SD
Top-Rated Senior Care in Tennessee • Alexandria Place - Jackson, TN • Apple Grove Alzheimer's & Adult Day Care - Memphis, TN • Barton House - Nashville, TN • Brookdale Belle Meade - Nashville, TN • Brookdale Deane Hill - Knoxville, TN • Brookdale Green Hills Cumberland - Nashville, TN • Dogwood Bend - Clarksville, TN • Elite Elderly Care - Hendersonville, TN • Elmcroft of Bartlett - Memphis, TN • Elmcroft of Hamilton Place - Chattanooga, TN • Elmcroft of Hendersonville - Hendersonville, TN • Elmcroft of Shallowford - Chattanooga, TN • Germantown Plantation - Germantown, TN • McKendree Village - Hermitage, TN • Morning Pointe of Brentwood - Brentwood, TN • Morningside of Cleveland - Cleveland, TN • NorthPark Village Senior Living - Madison, TN • Preferred Care at Home - Goodlettsville, TN • Providence Place Assisted Living - Mount Juliet, TN • Right at Home- Memphis East - Memphis, TN • River Oaks Place - Loudon - Loudon, TN • Riverview Terrace - McMinnville, TN • Senior Helpers - Germantown, TN • Southern Manor Living Center - Lebanon, TN • Springfield Heights - Springfield, TN • Stones River Manor, Inc. - Murfreesboro, TN • The Parkview - Memphis, TN • Uffelman Estates - Clarksville, TN • Willow Springs Assisted Living - Spring Hill, TN • Windlands East - Madison, TN
Top-Rated Senior Care in Texas • 4 Seasons Senior Living - Plano, TX • A Caring Home with Friends - Carrollton, TX • Adante San Antonio - San Antonio, TX • Always Home at Saddlehorn - Katy, TX • Appletree Court Assisted Living - Richardson, TX • Arbor House of Dallas - Dallas, TX • Arbor House of Lewisville - Lewisville, TX • Aria Memory Care - Cedar Park, TX • Assisting Hands of Fort Worth West - Fort Worth, TX • Atria at Hometown - North Richland Hills, TX • Atria Canyon Creek - Plano, TX • Atria Sugar Land - Sugar Land, TX • Atria Westchase - Houston, TX • Atria Willow Park - Tyler, TX • Autumn Leaves of Arlington - Arlington, TX • Autumn Leaves of Cinco Ranch - Katy, TX • Autumn Leaves of Clear Lake - Houston, TX • Autumn Leaves of Fossil Creek - Haltom City, TX • Autumn Leaves of Riverstone - Missouri City, TX • Autumn Leaves of Rockwall - Rockwall, TX • Autumn Leaves of the Woodlands - The Woodlands, TX • Azalea Trails - Tyler, TX • Belmont Village Hunters Creek - Houston, TX • Bethesda Gardens Arlington - Arlington, TX • Brookdale Arlington - Arlington, TX • Brookdale Castle Hills - San Antonio, TX • Brookdale Champions - Houston, TX • Brookdale Clear Lake - Webster, TX • Brookdale Eden Estates - Bedford, TX • Brookdale First Colony - Sugar Land, TX • Brookdale Gaines Ranch - Austin, TX • Brookdale Grand Court Lubbock - Lubbock, TX • Brookdale Medi Park West - Amarillo, TX • Brookdale Oak Hollow - Bedford, TX • Brookdale Ridgmar - Fort Worth, TX • Brookdale Shadow Hills - Lubbock, TX • Brookdale South San Angelo - San Angelo, TX • Brookdale Tyler East - Tyler, TX • Brookdale White Rock - Dallas, TX • Carriage Inn at Bryan - Bryan, TX • CHRISTUS St. Joseph Village - Coppell, TX • Cimarron Place - Midland, TX • Cinco Ranch Alzheimers - Katy, TX • Colonial Gardens - Fort Worth - Fort Worth, TX • Colonial Oaks at Pearland - Pearland, TX • Colonial Oaks at Vista - Pasadena, TX • Comfort Senior Care Home - Porter, TX • Comfy Home-Cinco Ranch - Katy, TX • Cowhorn Creek Estates - Texarkana, TX • Cypress Assisted Living, LLC - Cypress, TX • Dogwood Estates - Denton, TX • Elmcroft of Cottonwood - Temple, TX • Elmcroft of Cy-Fair - Houston, TX • Elmcroft of Wharton - Wharton, TX • Emerald Oaks Retirement Resort - San Antonio, TX • Encore Memory Care Day Stay - Plano, TX • Family Tree In-Home Care - Houston, TX • FirstLight HomeCare - Richardson, TX • Fox Run Estates - Arlington, TX • Garden Estates of Tyler - Tyler, TX • Georgetown Living - Georgetown, TX • Grace Elderly Care Home - Spring, TX • Grace Presbyterian Village - Dallas, TX • Gracious Care Home - Allen - Allen, TX • Grayson Place - Denison, TX • Greenfield Residences of Arlington - Arlington, TX • Griswold Home Care - Plano, TX • Heritage Place - Burleson, TX • Heritage Place Assisted Living & Memory Care - Burleson, TX • Heritage Village - McAllen, TX • Heritage Village Residences - Hurst, TX • Horizon Bay Grand Prairie - Grand Prairie, TX • Independence Hill Retirement Community - San Antonio, TX • Inn At Los Patios - San Antonio, TX • Integrity Senior Care - San Antonio, TX • Isle at Watercrest- Alamo Ranch - San Antonio, TX • Lakehouse On Dixie - Pearland, TX • Lakeside Assisted Living - San Antonio, TX • Lakestone Terrace - Granbury, TX • Lakewell Place - Mineral Wells, TX • Lakewood Village Retirement Community - Fort Worth, TX • Landing at Watermere - Southlake, TX • Legacy at Bear Creek - Keller, TX • Liberty Heights - Rockwall, TX • Lucy's Loving Home Care - Axtell, TX • Luvida Memory Care - Belton, TX • MacArthur Hills - Irving, TX • Madison Estates - San Antonio, TX • Mayberry Gardens - Garland, TX • Meadowstone Place - Dallas, TX • Mercer Place - Rowlett, TX • Mercy Elderly Assisted Living - Spring, TX • Meridian Temple - Temple, TX • Midtowne Assisted Living and Memory Care - Midlothian, TX • Miramar Home Care - Converse, TX • Mustang Creek Estates of Keller - Keller, TX • Mustang Creek Estates Residential AL & MC - Frisco, TX • New Haven Assisted Living of Kyle, LLC - Kyle, TX • North Brook Place - McKinney, TX • Notice Residential Care Home - Mesquite, TX • Only the Strong Survive - Dallas, TX • Oyster Creek - Missouri City, TX • Parkwood Retirement - Bedford, TX • Parsons House Austin - Austin, TX • Pioneer Ridge - McKinney, TX • Plum Creek Place - Amarillo, TX • Preston Place - Plano, TX • Raider Ranch - Lubbock, TX • Regal Estates - League City, TX • Regency of El Paso - El Paso, TX • Riverside Inn at Fossil Creek - Fort Worth, TX • Royal Estates of Wichita Falls - Wichita Falls, TX • Season's Alzheimer's and Assisted Care - San Antonio, TX • Select Home Care - Frisco, TX • Senior Helpers - Richardson, TX • Serenity Manor Rosebud House - Conroe, TX • Silverado Onion Creek - Austin, TX • Silverado Valley Ranch - Irving, TX • Sonoma House Assisted Living LLC - Carrollton, TX • Stoneybrook Memory Care of Garland - Garland, TX • Stoneybrook Memory Care of Grapevine - Grapevine, TX • Stoneybrook Memory Care of McKinney - McKinney, TX • Sundance at Woodcreek Reserve - Katy, TX • Sunrise of Fort Worth - Fort Worth, TX • The Conservatory at Alden Bridge - The Woodlands, TX • The Conservatory at Champion Forest - Spring, TX • The Conservatory at Keller Town Center - Keller, TX • The Conservatory at Plano - Plano, TX • The Conservatory at Wells Branch - Austin, TX • The Continental - Austin, TX • The Cottages at Chandler Creek - Round Rock, TX • The Cottages at Clear Lake - League City, TX • The Gardens at Brook Ridge - Pharr, TX • The Lodge at Rocky Hollow - Georgetown, TX • The Pines at Oakhurst - Spring, TX • The Village at Stonebridge - McKinney, TX • The Waterford on Huebner - San Antonio, TX • The Wellington at North Richland Hills - North Richland Hills, TX • Total Loving Care, Inc. - New Caney, TX • University Place - Abilene, TX • University Village - Round Rock, TX • Village at Woodlands Waterway - The Woodlands, TX • Village on the Park at Steeplechase - Houston, TX • Villagio of McKinney - McKinney, TX • Watercrest at Alamo Ranch - San Antonio, TX • Weismer House - Dallas, TX • Westmore Senior Living - Westworth Village, TX • Wood Glen Court - Spring, TX • Wyoming Springs Assisted Living - Round Rock, TX
Top-Rated Senior Care in Utah • Atria Sandy - Sandy, UT • Brookdale North Ogden - Ogden, UT • Carrington Court - South Jordan, UT • Charleston - Cedar Hills, UT • Chateau Brickyard - Salt Lake City, UT • Golden Living Taylorsville - Taylorsville, UT • Maple Springs - Brigham City, UT • Select Home Care - West Jordan, UT • Sunrise of Sandy - Sandy, UT • The Harrison Regent - Ogden, UT • Treeo - Orem, UT
Top-Rated Senior Care in Virginia • Allegiance Home Care - Aldie, VA • Brightview Great Falls - Great Falls, VA • Commonwealth Assisted Living at Chesterfield - North Chesterfield, VA • Commonwealth Assisted Living at South Boston - South Boston, VA • Commonwealth Memory Care at Cedar Bluff - Cedar Bluff, VA • Commonwealth Senior Living of Charlottesville - Charlottesville, VA • Dominion Village at Chesapeake - Chesapeake, VA • Elmcroft of Chesterfield - North Chesterfield, VA • Greenfield of Williamsburg - Williamsburg, VA • Greenfield Reflections of Strasburg - Strasburg, VA • Heritage Commons of Williamsburg - Williamsburg, VA • IncrediCare - Fairfax, VA • Leigh Hall - Norfolk, VA • Magnolias of Chesterfield - Chester, VA • Spring Hills Mount Vernon - Alexandria, VA • Sunrise at Hunter Mill - Oakton, VA • The Colonnades - Charlottesville, VA • The Fairmont - Manassas, VA • The Hermitage - Richmond, VA • The Windsor Memory Care - Richmond, VA
Top-Rated Senior Care in Vermont • Brookdale Fillmore Pond - Bennington, VT • Cedar Hills Continuing Care Community - Windsor, VT • TLC Home Care Services - South Burlington, VT
Top-Rated Senior Care in Washington • A Caring Choice A.F.H. - Kirkland, WA • Broadway Court Estates - Spokane Valley, WA • Brookdale Mill Creek - Mill Creek, WA • Canterbury Gardens - Longview, WA • Canterbury Inn - Longview, WA • Cascadian Place - Everett, WA • Comfort Keepers - Spokane, WA • Crawford House - Kelso, WA • Fairwinds -Spokane - Spokane, WA • Family Resource Home Care - Tacoma - Tacoma, WA • Farrington Court - Kent, WA • Garden Court - Everett, WA • Harvard Park Retirement - Spokane, WA • Home Again AFH - Shoreline, WA • Home Away From Home - Edmonds, WA • Kamlu Retirement - Vancouver, WA • Lake View AFH LLC - Kenmore, WA • Lexington House - Vancouver, WA • Liberty Place - Port Orchard, WA • Norflor Manor AFH II - Olympia, WA • Northgate Plaza, A Merrill Gardens Community - Seattle, WA • Parkview Estates - Kennewick, WA • Patriots Glen - Bellevue, WA • Peters Creek Retirement & Assisted Living - Redmond, WA • Queen Anne Manor - Seattle, WA • Redmond Heights Senior Living - Redmond, WA • Sinclair Place - Sequim, WA • Six Star AFH - Federal Way, WA • South Pointe Assisted Living - Everett, WA • Sullivan Park Assisted Living Community - Spokane Valley, WA • The Creekside, A Merrill Gardens Community - Woodinville, WA • The Quarry - Vancouver, WA • The Ridge - Silverdale, WA • The Willows Retirement Living - Bremerton, WA • Weatherly Inn-Tacoma - Tacoma, WA
Top-Rated Senior Care in Wisconsin • Appleton Retirement Community - Appleton, WI • Arbor Village of Geneva Crossing - Lake Geneva, WI • Bell Tower Place - Franklin, WI • Bella Vista - Oshkosh, WI • BrightStar Senior Living - Madison, WI • Brookdale Appleton - Appleton, WI • Brookdale Madison West - Madison, WI • Clare Heights - Milwaukee, WI • Eastcastle Place - Milwaukee, WI • Elizabeth Gardens - Racine, WI • Harmony of Racine - Mount Pleasant, WI • Harmony of Two Rivers - Two Rivers, WI • Heritage at Deer Creek - New Berlin, WI • Heritage Court - Pewaukee, WI • Heritage Elm Grove - Elm Grove, WI • Heritage West Allis - West Allis, WI • HomeCare Assistance of WI - Glendale, WI • Lake View Place - Fond du Lac, WI • Lighthouse of Sun Prairie - Sun Prairie, WI • Lynnwood of Delafield - Pewaukee, WI • Oakwood Village University Woods - Madison, WI • Parkside Manor - Kenosha, WI • Ridgeview Highlands - Appleton, WI • Silverado Brookfield - Brookfield, WI • Village at the Falls - Menomonee Falls, WI • Vista Pointe Assisted Living - Menomonee Falls, WI • Waterford Senior Living - Waterford, WI • Wissota Place - Chippewa Falls, WI
Top-Rated Senior Care in West Virginia • Bellaire at Devonshire - Scott Depot, WV
Top-Rated Senior Care in Wyoming • Mountain Plaza Assisted Living - Casper, WY
Top-Rated Senior Care in Alberta • Canyon Meadows - Calgary, AB • Riverbend - Edmonton, AB
Top-Rated Senior Care in British Colombia • Bear Creek Villa - Surrey, BC
Top-Rated Senior Care in Ontario • Norfolk Manor - Guelph, ON • Robertson House - Nepean, ON • The Annex - Toronto, ON • The Ravines Retirement Residence and Seniors' - Ottawa, ON • Trafalgar Lodge - Oakville, ON